Magnesia ceramic adhesive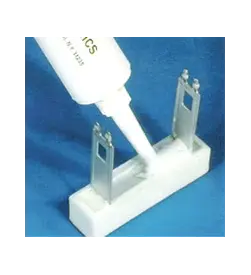 Cotronics® Resbond® ceramic adhesive

Cotronics® Resbond® high temperature adhesive are based on high purity ceramic binders and selected reinforcing fillers.
These adhesives have excellent adhesion to ceramics, metals, glass and plastics. They offer excellent high temperature stability, dielectric strength, mechanical properties and thermal shock resistance.
Magnesia adhesive
Resbond® 906 - 919
906 - 1650°C : Magnesia MgO, high expansion.
919 - 1540°C : Magnesia MgO, high resistance.
Ceramic adhesive Magnesia 2 components Maximum temperature 1650°C
Full description
Ceramic binder Magnesia Single component Maximum temperature 1650°C
Full description
Ceramic adhesive Magnesia 2 components Maximum temperature 1530°C
Full description