Macor®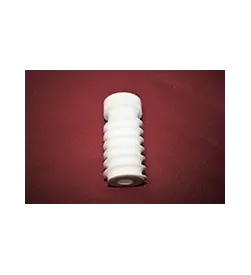 Final Advanced Materials provides Macor, machinable high temperature ceramic. We offer boards, rods or machined parts according to your drawings.


MACOR® presentation
MACOR® machinable glass ceramic is recognized worldwide to be a major technological innovation, as well as a technical solution for a wide range of industrial applications.Opening a wide range of possibilities MACOR gives the performance of a technical ceramic with the versatility of a high performance polymer, while providing the machinability of a soft metal.As a result, MACOR is an outstanding engineering material which can quickly be designed into highly complex shapes, using conventional metalworking tools.
MACOR® main characteristics
Easily machinable
Withstands high temperatures
Low thermal conductivity
Holds tight tolerances
Electrical insulator
Zero porosity and no outgassing
Strong & rigid
Highly polishable
Radiation resistant
MACOR® applications
Constant and ultra-high vacuum environments
Laser technology
Semiconductor / Electronic
Aerospace / Space
Medical/ Laboratory equipment
Fixtures
Chemical
Automobile
Military
Nuclear
We can provide a complete range of machinable ceramics according to your application's needs.