Alumina Silicate Al2SiO5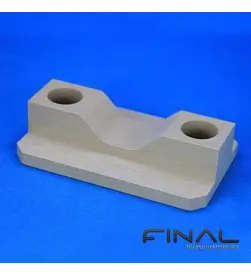 Alumina silicate presentation


Alumina silicate is a machinable ceramic, its machinability is remarkable. The homogeneous structure of the mineral authorizes the use of standard tools, dedicated usually to the work of metals. This characteristic intends  the manufacturing of prototypes and series of parts with very tight tolerances.
Alumina silicate is also available as a liquid foam. COTRONICS RESCOR 740 forms lightweight, high strength, machinable, thermally and electrically insulating parts usable to 1260°C. Just mix the ceramic powder with its liquid activator and pour into non-absorbent molds.

Cotronics® products available in six refractory compositions: Alumina, Ceramic Foam, Silica, Silicon Carbide and Zirconia. Castable ceramic cement presentation Parts as...
Full description
Final Advanced Materials provides alumina silicate, machinable high temperature ceramic. We offer boards, rods or machined parts according to your drawings. Alumina silicate, machinable...
Full description