Glass ceramic Vitro 800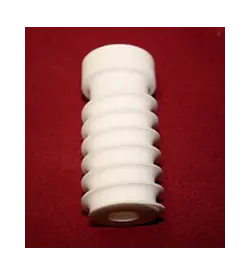 Final Advanced Materials provides glass ceramic Vitro 800, machinable high temperature glass ceramic. We offer boards, rods or machined parts according to your drawings.


Machinable glass ceramic Vitro 800  presentation
Vitro 800 machinable glass ceramic is an economic alternative to Macor. It is available in bigger dimension, bars from Ø70 to 250 mm and boards up to thickness 60 mm.
Machinable glass ceramic main characteristics
Easily machinable
Withstands high temperatures
Low thermal conductivity
Holds tight tolerances
Electrical insulator
Zero porosity and no outgassing
Strong & rigid
Highly polishable
Radiation resistant
Machinable glass ceramic applications
Constant and ultra-high vacuum environments
Laser technology
Semiconductor / Electronic
Aerospace / Space
Medical/ Laboratory equipment
Fixtures
Chemical
Automobile
Military
Nuclear
We can provide a complete range of machinable ceramics according to your application's needs.
Properties

Units

Alumina silicate raw

Alumina silicate

1100°C

Alumina silicate

1300°C

Macor®

Glass ceramic (Vitro 800)

Machinable alumina

Machinable boron nitride

Aluminium nitride (Shapal M™)

Machinable Aluminium nitride

Physical characteristics

Density

g/cm3

2.2

2.4

2.5

2.52

2.7

3.8

1.85

2.9

2.9

Porosity

%

1.5 - 2

0 - 0.5

0 - 0.5

0

 0.096

10

14

0

< 0,1

Water uptake

%

1.5 - 2

0 - 0.5

0 - 0.5

0

0.038

2 - 3.5

/

0

0

Mechanical characteristics

Hardness

Mohs: 2.5

Mohs: 5.5

Mohs: 7.5

Rockwell A: 48

Mohs: 4

Mohs: 5

Knopp: 4 kg/mm²

Vickers: 3900 Mpa

Vickers: 3750 Mpa

Compressive Strength

N/mm2

6

150

800

345

 488

422

20

1200

1170

Flexural Strength

N/mm2

12

50

80

94

 108

267

50

300

300

Modulus of Elasticity

GPa

/

/

/

66.9

 65

/

/

190

180

Thermal characteristics

Peak Temperature

°C

900

1100

1400

1000

 800

1650

850

1000

1000

Continuous Temperature

°C

700

1100

1300

800

 800

1650

850

1000

1000

Specific Heat at 20°C

J/kg°K

/

/

/

0.79

/

/

1.5

/

/

Thermal Conductivity at 100°C

W/m°K

1.07

1.7

2.2

1.46

 1.68

4.61

90

90

90

Coefficient of Expansion

20 - 40°C

10-6/°K

/

/

/

9.3

/

/

/

4.4

/

20 - 600°C

/

2.9 - 3.6

 6-8

11.4

8,6

/

/

4.8

4.5

20 - 800°C

/

/

/

12.6

/

/

/

5.1

/

20 - 1000°C

 7-12

/

 4-10

/

/

/

0.57

/

/

Electrical characteristics

Specific Resistivity at 20°C

Ohm.cm

1010

1012

1012

1016

 1.8x1014

1014

1014

1012

1012

Dielectric Constant at 20°C

at 1 KHz

/

/

6.1

6.03

 6~7

9 (@ 100kHz) 

4

7.1

7.1

Loss Tangent

at 1 KHz

/

/

9x10-5

0.005

 /

/

0.0012

0.001

/

Dielectric Strength at 20°C

kV/mm

 8-10

 6-7

 12-17

40

 > 15

7.87

2

40

40

Chemical characteristics

Corrosion resistance at 20°C

B

B

B

B

 B

B

/

/

/

Resistance to alkalis at 20°C

B

B

B

TB

 TB

B

/

/

/