Balls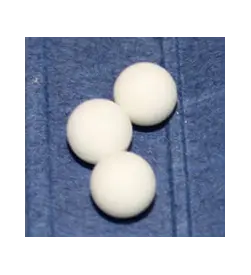 Final Advanced Materials provides a range of ceramic balls with corrosion and abrasion resistance at high temperature in alumina Al2O3 and zirconia ZrO2.

Alumina Al2O3 Ceramic balls presentation

Our alumina Al2O3 (purity 99.5%) ceramic balls have dimensional stability up to 1100°C (maximum temperature 1400°C) with an high wear and corrosive resistance. Alumina balls resist oxidation, contact with water, salt solutions, acids, ...
Technical Datasheet
Properties

Alumina

Zirconia

Chemical composition (weight %)

 

99.50%
97% ZrO2 - 3% MgO
Hardness
1700 Hv
80 - 84 Ra
Density (g/cm3)
3.87
5.6
Compressive strength (kN/mm²)
2.4
2
Cross-breaking strength (kN/mm²)
0.26
0.53
Elasticity (kN/mm²)
350
195
Peak temperature (°C)
1400
2400
Material

Grade

Dimensions (Φ en mm)

Al2O3/ZrO2

2
2 to 3mm
3
3 to 4mm
5
5 to 6mm
8
8 to 9mm
10
10 to 11mm