Composites & Refractories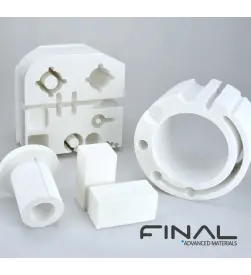 Final Advanced Materials offers a complete range of composites and refractories: organic composites made from fibre, glass and epoxy resin or mica and silicone, as well as refractories like calcium silicate, nanoporous silica, Sizal-Cell® and ceramic fibres.
Organic Composites
Machinable fibre glass and epoxy resin composite
Composed of fibre glass fabric or materials and an epoxy binder, composites E6000, E60 and E70 are very good thermal and electrical insulators. They are compatible with applications up to 350°C, where dimensional stability and mechanical strength are essential parameters.
Machinable mica and silicone resin composite
Mica MC5000HT, a Mica phlogopite-based thermal insulation, is a material made from aluminosilicates and composed of 90% mica and 10% silicone resin. It guarantees temperature resistance up to 750°C as well as high mechanical strength under compression.
Inorganic Refractories
Calcium silicate
Machinable calcium silicate technical composites do not contain asbestos fibres, offer excellent thermal and electrical insulation properties, have a low shrinkage rate and can withstand temperatures up to 1000°C. Calcium silicate can be sawn, bevelled, drilled, screwed and machined with traditional machines, tools and techniques.
Nanoporous silica
The high insulating capacity of NANO-T nanomaterials comes from their composition of nanoporous ceramic particles. There are only temporary contacts between these particles and the surface ratio is the lowest possible. As a result, the thermal conduction between solid particles is reduced to a minimum. Nanopores also limit convective heat transfer. All these characteristics make this type of material more efficient than conventional insulating materials such as mineral fibres, refractory bricks and other inorganic products. Very low thermal conduction, from 0.021 to 0.040 W/mK up to 1000°C.
Sizal-Cell®
Our range Sizal® is a complete line of thermal insulators that open the way to many industrial or laboratory applications up to 1800°C. The mechanical and thermal performance of Sizal® products guarantee substantial savings in terms of energy and therefore cost. Sizal-Cell® is a range of non-fibrous insulation products manufactured from alumina microspheres. Ultra-light, Sizal-Cell® is designed for high-temperature applications up to 1800°C.
Zircon fibre
Zircon fibre products have a high resistance to high temperatures and very high resistance to chemical agents. The maximum operating temperature is 2200˚C and melting starts at 2500°C (possible variation depending on the product). Plates, discs and tubes are rigid and refractory structures composed of zircon fibres stabilised with yttrium oxide. These products are specifically designed for thermal insulation applications under very high temperatures and in harsh environments.
Silico-aluminous fibre
We offer the complete range of SuperWool® boards and blocks from Morgan Advanced Material®. We can deliver plates whole or customise to your requirements.