Graphite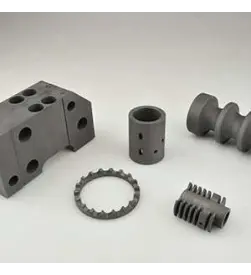 Final Advanced Materials provides supply and implementation services for graphite in all its forms: machinable graphite, cement, aerosol, powder, soft and rigid felt, joint sheets and vitreous carbon.
Machinable graphites
There are dozens of different grades of machinable graphite, obtained by extrusion or isostatic pressing. We deliver bars and plates and offer complete machining services according to your specifications.
Ceramic cement
Cotronics®Resbond® 931 Cement consists exclusively of graphite. This cement makes it possible to bond pieces of graphite together, up to 3000°C, under vacuum or under neutral gas.
Graphite aerosol
Graphite aerosol is used to lubricate metal, plastic or rubber parts without the use of grease. Its binder makes it possible to attach a film of graphite powder, of very fine particle size, to various materials, without increasing thickness.
Graphit powder
Among our machinable graphite production drop-offs we offer screened powder. From 0/50 μm up to 315/500 μm, this Graphit powder is ideal for lubrication or resin loading.
Graphit felt
Flexible graphite felt
Flexible carbon/graphite felts are available in thicknesses of 6 and 11 mm. Widths and customised shapes can be cut to your specifications. This type of felt is used for thermal insulation in vacuum or inert gas furnaces. It is also effective for degassing, brazing and annealing furnaces and sintering for metals.
Rigid graphite felt
Rigid graphite felt is available in 40 mm thickness (max size 1524 x 1219 mm²). This product is made from graphite fibre and a carbon binder. It can be used up to 2000°C under vacuum as a support element. This component is used in ovens at very high temperatures. Widths and custom shapes can be cut according to your needs.
Graphite joint sheets
Joint sheets are made of high-quality natural graphite without adhesives or binders. They can be used at very high temperatures in an inert atmosphere or under vacuum. We stock thicknesses of 1 and 2 mm with dimensions of 1000 x 1000 mm².
Vitreous carbon
The vitreous carbon is resistant to very high temperatures up to 3000°C under inert gas. It is used to make melting crucibles of alloy and noble metals.
Carbon-graphite
These materials have a fine or very fine particle size and can have a very high degree of anisotropy due the axial process. They are made of amorphous carbon and graphite.