High Temperature Textiles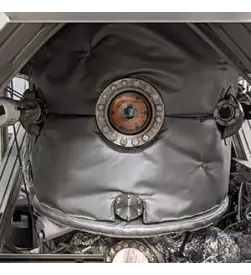 Final Advanced Materials offers a range of high-temperature fibres. Our textiles are available in different quantities and in several sizes, and we create your products in our workshop. Our engineers assist you in developing the best product for your requirements.
We can supply and implement the following fibres: Aramid, Glass, Zetex®, Basalt, Zetex®Plus, Silicate, Pure Silica, Biosoluble, Monofilament Ceramics and Zirconium.
Our production workshop
Thanks to our engineers and our workshop, Final Advanced Materials manufactures soft mattresses and flexible 2D or 3D insulating parts according to your needs. These customised products are made from our range of specialist textiles.
To meet different needs, there are variants of these fabrics with coatings, such as silicone, PTFE and vermiculite, and aluminised or self-adhesive surfaces.
Making high temperature mattresses
Our classic mattresses are composed of three layers:
We can produce a specific closing system or add reinforcing inserts depending on the intended purpose.
Customised specialist textiles
Our products are customised to the different characteristics of the intended application:
Operating temperature
Mechanical constraints
Chemical constraints
Operating environment
Health and safety
Our specialist technical resources
Our resources allow us to produce prototypes and ranges/series of parts:
Industrial sewing machines
Digital plotter
Digital cutting table
Templates
Injection system for flexible parts
Riveting
Bonding
High temperature textile applications
Valve and flange insulation
Piping and exhaust sheaths
Turbine, pump, engine/motor mattresses
Furnace and steriliser gasket seals
Thermal protection screens
Splash/spray screens
Final Advanced Materials offers customised cuts and sections of technical-use textiles from our textile production workshops.
Full description
Final Advanced Materials offers tailor-made technical use textiles and high temperature solutions; thermal protection, fire protection.
Full description