High Temperature Textiles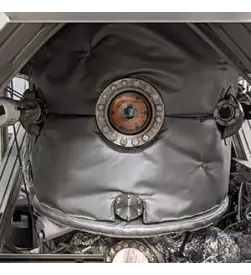 High Temperature Textile Fibres
Final Advanced Materials supplies a range of technical textile fibres which are suitable for high-temperature applications. The production team can adapt to any requirements, ranging from the simple supply of materials to direct installation in the workshop, or product development.
Textile fibres are available in various materials, for the satisfaction of all thermal requirements:
Other materials are available for highly specific applications. Our products are used in the automobile, marine, military, rail and aeronautical industries.
Benefits of Textile Fibres
In comparison with rigid solutions, textile fibres provide numerous benefits:
High flexibility

An extensive product range

Ease of use

Lightweight properties

Very good insulation capability

Very good quality/price ratio
Comparative 
Materials

Peak
Temperature

Composition

Density

Thermal Conductivity
(at 25 °C)

Dielectric Const.

Conventional Applications

Unit

°C

%

g/cm3

Wm-1.K-1

Aramid

425

100% aromatic polyamide

/

/

4

Cut-proof and
abrasion-proof
safety clothing

E-Glass

 600

SiO2: 55

CaO: 20

Al2O3: 15

B2O3, MgO

2.6

0.85 to 1

6.4

Temperature
resistant
assemblies

Zetex®

700

SiO2: 55

CaO: 25

Al2O3: 15

MgO, B2O3

2.6

0.74

before treatment

6

Thermal
insulating
element

Basalt

700

SiO2: 58

Al2O3: 17

Fe2O3: 10

CaO: 8

MgO, Na2O

2.7

1.65

/

Fire protection,
high-temperature
resistant assemblies

ZetexPlus®

1,095

similar to Zetex®

+ vermiculite coating

/

0.74

before treatment

6

High-temperature
thermal insulating
element

Silicate


 1,200

SiO2> 95

/

0.35

/

High-performance
thermal product

Pure silicate

1,100

SiO2: 

99.95 – 99.99 

2.2

1.38

3.7

High-performance
thermal and
dielectric product

Biosoluble

1,200

SiO2: 75

CaO+MgO: 20

Other: 5

/

/

/

Insulating
and sealing
element

Ceramic 

1,700

Al2O3: 70

SiO2: 28

B2O3: 2

3.05

/

5.7

High-performance
thermal and
mechanical product

Zirconium

Oxide

2,250 

ZrO2 > 90

/

0.5

/




Very high
performance
thermal product
Applications of Textile Fibres
Insulation of industrial valves, flanges and pipes

Exhaust cladding: retention of the hottest gases, in the interests of more rapid evacuation

Turbo protection: maintenance of temperature for the achievement of a more

favourable turbine response time

Protective thermal matting for turbines, pumps and engines

Sealing gaskets for furnaces, kilns and flanges

Protective thermal screening

Anti-projection protective screening

Production in our Assembly Workshop
We have the facility for the production of flexible insulating matting and components in 2D or 3D, using our range of technical textiles. Variants of these fabrics are available with coatings (silicone, PTFE, vermiculite, etc.), one aluminium-coated side or one self-adhesive surface. These options ensure the fulfilment of all requirements. Textile fibres are employed in the assembly of matting. The conventional composition of matting is generally comprised of three parts:
a technical fabric cover,

a filling of flexible fibrous insulation,

stitching with a technical yarn.
It is possible to produce a specific closing system, according to the application concerned. Specifically, we can supply the following high-temperature closing systems:
eyelet and fastener,

hook-and-loop fastening tape,

hooks and metal wire lacing,

strap and buckle.
  The addition of reinforcing inserts permits the full customization of the product:
PTFE elements,

metal frame,

injection of silicone seals into textiles.
Our products are tailor-made, in order to ensure perfect compliance with the intended application. Numerous factors are involved in the production of textile fibre matting:
the continuous service temperature,

mechanical and chemical constraints,

the operating environment,

health,

safety.
Our technical facilities permit the production of prototypes, together with the manufacture of series production components:
industrial sewing machines

digital tracing table

digital cutting table

templates

injection system for flexible elements

riveting

adhesive bonding
Physical variables included in this documentation are provided by way of indication only and do not, under any circumstances, constitute a contractual undertaking. Please contact our technical service if you require any additional information.
Final Advanced Materials offers customised cuts and sections of technical-use textiles from our textile production workshops.
Full description
Final Advanced Materials offers tailor-made technical use textiles and high temperature solutions; thermal protection, fire protection.
Full description