High Temperature Coatings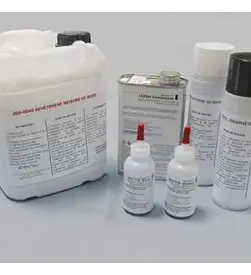 Final Advanced Materials offers a full range of high-temperature surface coatings for your purposes: graphite and boron nitride lubricants, protective paints, anti-moisture coatings, silicones and more.
High-temperature lubricants
Boron nitride suspension (in its hexagonal form) has high thermal conductivity and is not impregnable by molten metals. This system is unique in its properties, making it an ideal lubricant for hot parts and tools. It is a release agent and an effective coating for all very hot surfaces. Boron nitride remains effective up to 800°C in air and 1950°C under inert gas, making it a dry lubricant. This product is available as an aerosol or as a suspension.
Graphite is used as a dry lubricant for all anti-seize materials and release agents. It can be used up to 500°C in air and 1500°C under neutral gas or vacuum. This product is available as an aerosol.
High-temperature protective paint
Duralco® 201
Cotronics Duralco® 201 is a layer of aluminium deposited on the surface of metals, which gives them excellent resistance to moisture and saline atmospheres up to 650°C.
Duralco® 230
Cotronics Duralco® 230 paint a layer of stainless steel on the surface of metals, which gives them their stainless steel qualities. This material is made of stainless steel strips, a ceramic binder and water. It provides good corrosion resistance up to 800°C.
Duralco® 254
Cotronics Duralco® 254 is a composite layer of silica/stainless steel. This material consists of a silica varnish and strips of stainless steel, which forms an enamel when cooked. It provides good corrosion resistance up to 980°C.
Waterproof sealant
A liquid and paste consisting of mixtures of organic and inorganic raw materials, designed to protect against moisture, sources of impregnation, protective layers and finishing. They are excellent anti-moisture varnishes with good chemical resistance, and a high dielectric capacity. They are used to increase resistance to moisture and the dielectric capacity of porous ceramics, to impregnate and reinforce ceramic papers, plates, high-pressure seals, and more.
Cotronics Duraseal® 1529, 1529H, 1529FS and 1529UHT varnishes provide protection from 315 to 980°C.
Protective silicones
Duraseal® 1531
Cotronics® Duraseal® 1531 silicone is a high-temperature resistant sealant that remains flexible even at 350°C. It adheres to metals, glass and ceramics.
Duraseal® 1532
Cotronics® Duraseal® 1532 silicone improves the dielectric properties of electrical components. It seals porous ceramics and resists moisture. It is also a powerful adhesive, useful for all maintenance operations (excellent resistance to vibrations).
Duraseal® 1533
Cotronics® Duraseal® 1533 silicone is a fluid resin that penetrates the smallest spaces. It is used to mould, coat and bond. A good electrical insulator, it is recommended for the repair of connectors, cables, connection boxes and more.