Macor® machinable ceramic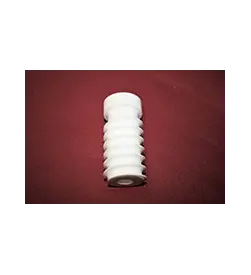 Final Advanced Materials provides Macor®, machinable high temperature ceramic. We offer boards, rods or machined parts according to your drawings.
Macor®machinable glass ceramic is recognized worldwide to be a major technological innovation, as well as a technical solution for a wide range of industrial applications. Opening a wide range of possibilities Macor® gives the performance of a technical ceramic with the versatility of a high performance polymer, while providing the machinability of a soft metal. As a result, Macor® is an outstanding engineering material which can quickly be designed into highly complex shapes, using conventional metalworking tools.
Macor® main characteristics
Easily machinable
Withstands high temperatures
Low thermal conductivity
Holds tight tolerances
Electrical insulator
Zero porosity and no outgassing
Strong & rigid
Highly polishable
Radiation resistant
Macor® applications
Constant and ultra-high vacuum environments
Laser technology
Semiconductor, electronic
Aerospace, space
Medical, laboratory equipment
Fixtures
Chemical
Automobile
Military
Nuclear
Technical data
Properties

Units

Macor®

Physical characteristics

Density

g/cm3

2.52

Porosity

%

0

Water uptake

%

0

Mechanical characteristics

Hardness

Rockwell A: 48

Compressive Strength

N/mm2

345

Flexural Strength

N/mm2

94

Modulus of Elasticity

GPa

66.9

Thermal characteristics

Peak Temperature

°C

1000

Continuous Temperature

°C

800

Specific Heat at 20°C

J/kg°K

0.79

Thermal Conductivity at 100°C

W/m°K

1.46

Coefficient of Expansion

20 - 40°C

10-6/°K

9.3

20 - 600°C

11.4

20 - 800°C

12.6

20 - 1000°C

/

Electrical characteristics

Specific Resistivity at 20°C

Ohm.cm

1016

Dielectric Constant at 20°C

at 1 KHz

6.03

Loss Tangent

at 1 KHz

0.005

Dielectric Strength at 20°C

kV/mm

40

Chemical characteristics

Corrosion resistance at 20°C

Good

Resistance to alkalis at 20°C

Very good