Machinable Technical Ceramics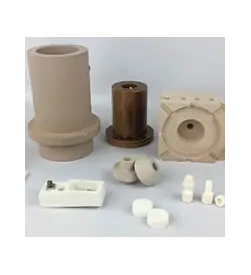 Overview: Machinable Technical Ceramics
Final Advanced Materials works on a wide variety of ceramic products, and can supply a selection of machinable ceramics.
Sintered ceramics are used in all technologies where heat resistance, abrasion resistance, chemical resistance, mechanical strength are criteria justifying their use. However, these ceramics involve a specific equipment and know-how in terms of mechanical machining or shaping and their design can be costly.
On the contrary, machinable technical ceramics (MTC) are easily manufactured by means of conventional machine tools. These ceramics can be sawn, drilled, milled, turned with classic tools, available in all general mechanical workshops. They are designed to completely replace sintered ceramics while maintaining an excellent quality.
MTC allow the production of small series parts, as well as validation prototypes. A single ceramic cannot meet all the requirements and all the requests, that is why we have developed over the years, a full range of easily machinable ceramic materials, capable of responding to a maximum of constraints. 
Final Advanced Materials has machining facilities and a certified ISO 9001 quality:
Cylindrical, surface grinding, turning 
Milling
Drilling
Ultrasonic machining and drilling
Plane and cylindrical polishing
Tapping, threading, grinding
Ceramic- metal assembly, brazing, plating
Final Advanced Materials also machines:
The quartz, ruby, glass, glass-ceramic, filtration's porous ceramics

Composites, fiberglass epoxy, silica, carbon, graphite
Machinable insulator material, calcium silicate, mica, silica-alumina
Applications of Machinable Technical Ceramics
Electronic components

Very high-temperature electrical insulation

Foundry crucibles

High-temperature lubricants

Electrical components, insulators, etc.

Medical devices

Production of prototypes

Production of brazed components

Attachment of components for welding

Electrical parts

Supports

Wear parts
Benefits of Machinable Technical Ceramics
Hardness

High mechanical strength

Dimensional stability, even at high temperatures

Resistance to wear and corrosion

Electrically insulating

Resistance to chemical products

High-temperature withstand

Dielectric and ferro-electric properties
Comparative Table
| | | | |
| --- | --- | --- | --- |
| Property | Ceramic | Metal | Polymer |
| Hardness | High | Low | Bad |
| Elastic Modulus | High | Good | Low |
| Resistance to High Temperature | High | Low | Bad |
| Thermal Expansion | Low | Good | Good |
| Malleability | Low | Good | Good |
| Corrosion Resistance | Good | Low | Low |
| Erosion Resistance | Good | Low | Low |
| Electrical Conductivity | Low | Good | Low |
| Density | Average | High | Low |
| Thermal Conductivity | Average | Good | Low |
Our range of Machinable Technical Ceramics
Alumina silicat
Alumina silicate can be used up to 650 °C in its raw shape and 1,300 °C in cooked finish. It can be used to make prototypes, for the brazing, the fixations of parts to be welded, insulators, supports, electrical components, etc. This ceramic allows to develop parts by cutting, sawing, drilling, milling with plates, cylindrical rods or discs using conventional machines. It appears in a compact form and has attractive electrical and mechanical characteristics. It allows the machining of high precision components without using expensive moulds or prefabricated parts: it is the ideal solution for the manufacturing of prototypes or small series. Metals in fusion, such as zinc, do not wet this ceramic, it is inert in oxidizing and reducing atmospheres and provides an outstanding resistance to thermal shocks. It does not outgas and can be used under vacuum.
Applications
Production of prototypes

Production of brazed components

Attachment of components for welding

Electrical components

Supports

Wear parts
Instructions of Implementation of the Ceramic
In its raw state, alumina silicate is machined like wood or brass, with the bandsaw, and for any traditional process: milling, turning, threading, boring, grooving, polishing, it is recommended to use tools in very hard metals, without cooling, and to clean carefully dusts of ceramic.
In the cooked form, note that parts should not exceed 12 mm of thickness if you want to avoid any crack; for higher thicknesses we shall drill holes.
During firing, the ceramic expands, from 1.9 % at 980 °C to 2 % at 1,040 °C. Beyond, variations are negligible, and the precision can reach ± 0:05 mm. We can finish grinding by softening. To bond this ceramic, we shall prefer the ceramic glue Cotronics® 919.
Firing Procedure
To resist at more than 650 °C, the parts must be prepared in the furnace by sintering. The operation will start in cold oven and the heating levels will not exceed 260 °C per hour. Consider the expansion to obtain the final dimensions (approximately 2 %). These levels will have to go down to 150 °C per hour if the parts have a thickness of more than 12 mm. The maximum temperature will not exceed 1,010 °C to 1,100 °C, and will be held, from 30 minutes for a thickness of 6 mm to 45 minutes for a thickness of 20 mm. The right value can be calculated by extrapolation. We shall cool then gradually until the part will be taken out of the furnace at about 90 °C.
Special Instructions
Actions

Advice

To cut, to drill, to turn, to bore, to thread, to perforate, to straighten, to drill out

Possible with conventional tools. 

Tools speeds and materials are similar to those used for metals machining.

Carbide tools must be carefully sharpened.

Heating 

Plan the expansion from 1.8 to 2 % 

Example: a machined dimension of 9.8 mm will become a final dimension of 10 mm. 

Diameters also undergo this expansion.

Lubricants & Cooling Liquids

NEVER use neither lubricants, nor cooling liquids.

Cleaning

Clean the machines thoroughly after work: alumina silicate is abrasive in powder form.

Remanufacturing

Possible with water to a very high precision

When required by the application: by means of silicon carbide grinding wheels.

In case of failure

Remember to check the causes most frequently observed:

- Is the firing temperature badly adjusted? 

- Is there a miscalculation of the expansion? 

- Does the created model present sharp corners and «hard» transitions?
Macor®
Macor® is an outstanding engineering material which can quickly be designed into highly complex shapes, using conventional metalworking tools. Opening a wide range of possibilities, Macor® gives the performance of a technical ceramic with the versatility of a high performance polymer, while providing the machinability of a soft metal. Macor® remains continuously stable at 800 °C, with a maximum peak at 1,000 °C. Its coefficient of thermal expansion readily matches most metals and sealing glasses. As an electric insulator, particularly at high temperatures, it is excellent at high voltages and a broad spectrum of frequencies. Macor® is a white, nonwetting, odourless and non-outgassing material that exhibits zero porosity. It is also radiation resistant. Macor® is of a pure white and can be polished to a high gloss. It can be metallized, welded and bonded to a thick or thin epoxy film. Another main advantage of this unique material is that, even in small quantities, it can be manufactured in an economic way.
| | |
| --- | --- |
| Fields | Examples |
| Ultra-High Vacuum Environments  | Insulator, coil support, vacuum feed-throughs |
| Constant Vacuum Applications | Spacers, headers and windows for microwave tube devices, sample holders in field ion microscopes |
| Aerospace Industry | retaining rings, mechanical joints on the orbital probes |
| Nuclear-Related Experiments | Reference piece to measure dimensional change in other materials (Macor® is not dimensionally affected by irradiation) |
| Welding | Nozzle on the tips of oxyacetylene torches (nonwetting characteristic of Macor®) |
| Fixtures | electrode support and burner block in several industrial high heat, electrical cutting operations |
| Medical Equipment | Medical components are integrated by Macor®'s inertness |
Machining
Extremely machinable, Macor® offers tight tolerances capabilities, allowing complicated shape design (optimal performances up to +/- 0.013 mm for dimensions, < 0.5 µm for finished surface and up to 0.013 µm for polished surface).
Alternative to Macor®
The use of Macor® is restricted by the dimensions of the product concerned. Vitro 800 is an equivalent material to Macor®, available in bars of dimensions up to ø120 mm x 300 mm and in plates of dimensions up to 300 x 300 x 50 mm. Other dimensions are available on request. Moreover, Vitro800 is available at a highly cost-effective price.
Machinable alumina (96 %)
Machinable alumina ceramic is ready to use and required no heat treatment. However, Cotronics®960 hardener can be used increase even more the wear resistance of its surface: just apply and fire at 320 °C. Machinable alumina ceramic is usable to 1,650 °C and resists to molten metals, acids, solvents and thermal chocs. It is ideal for applications in electrical, electronic, metallurgical, fixtures and vacuum industries.
Applications
Electrical components, insulators

Prototypes, brazing

Vacuum and R.F. heating fixtures

Various supports…
Usinage
Machinable alumina is machined with high precision with traditional sharp cutting tools, carbide cutting tools are preferred:
• Lubrication: Water provides excellent cooling and lubrication. Insufficient lubrication will cause dulling of cutting tools and chipping of the ceramic
• Cutting: Cut down into work. Use bonded silicon carbide or diamond cut off wheel with speeds of 1,800 to 2,600 rpm. Use a a bandsaw with carbide grit blade at the speed of 23 m/mn, 14 non-lubricated teeth for the outlines.
• Drilling: Use a carbide drills
at 2,000 rpm within 6 mm in diameter

at 1,000 rpm above 6 mm

never exceed 12 mm (1/2'')
• Threading: Use a diamond wheel with a tool post grinder or tungsten carbide tools.
• Tapping: Use high speed steel or carbide. Drill size should allow for 70 % thread form.
• Turning: Use carbide tool bits or silicon carbide wheels on post grinder. 
Boron Nitride
Boron nitride is a white solid material in the as produced hot pressed form. Due to the densification method used, the physical properties of the material are different according to the perpendicular and parallel axis to the direction of sintering. Boron nitride is non-toxic. Three standards machinable boron nitride:
Final®BN: Boron nitride with binder
Final®BN HP: High purity boron nitride without binder
Final®BN HP2: Boron nitride highly resistant to mechanical strength
Applications
Electric insulator at very high temperatures

CVD crucibles

Thermocouple sheath

Resistor holder

High temperature lubricant
Available Products
We machine your parts according to your drawings.
Aluminum Nitride - SHAPAL™ Hi M-soft
Aluminium nitride (AlN) is a nitride of aluminium and a wide band gap (6.2 eV) semiconductor material. It is an electrical insulating refractory material having very high thermal conductivity (higher than that of copper at 200 °C) and showing high resistance to oxidation and abrasion. It has potential applications for substrate and in power electronics for the manufacture of microwave power transistors. Aluminium nitride is synthesized by the carbothermal reduction of aluminium oxide or by direct nitridation of aluminium. It is transparent in the visible wavelengths and in the infrared (0,5 to 3µm) and can be used as a window for infrareds and radars.
Applications
Various electronic components that require heat dissipation and electrical insulation

Various components that require high-frequency wave properties, including low dielectric constant and dielectric loss

Tools and setters that require a low coefficient of thermal expansion.
Available Products
We machine your parts according to your drawings.
Alternative to Shapal™ Hi M-soft
We also offer a competitive product to Shapal™ M Soft by Tokuyama. This aluminum nitride has equivalent characteristics to Shapal™ M while being economically more interesting.
Machining Advice
These ceramics are machined accurately with conventional carbide tools. The following procedures will be monitored and verified frequently, as well as we will use and verify frequently very sharp tools: these materials are very hard and abrasive, they damage rapidly the tools edges. It is imperative to work slowly without vibration nor hurry. Lubrification: water is an excellent lubricant/ coolant. Maintain a continuous flow on the tool and the workpiece, to avoid splinters. For even more precision, use the recommended products.
Sawing: with circular diamond or silicon carbide saws, speeds from 2,000 to 2,500 rpm, top-down.
Trimming or Filing: with ribbons covered continuously with carbide powder, speed 30 m/mn maximum.
Drilling: with carbide drills, Carbolloy 883 type. Slow down speeds announced for HSS drills. Never drill in a single continuous operation, suspend and restart the drill progress. Use a hammer drill, re-sharpen every 3 to 4 holes.
Boring:
Speed: 2.2 to 3.8 m/mn

Tool load: 0:051 mm/tooth

Depth: 4 to 5 mm
Threading: use a diamond tool with chips recovery or use a small tool in tungsten carbide.
Tapping: High speed steel tools such as those in carbide are suitable. Prepare front holes at 70 % of the final diameter. Lubricate with kerosene.
Turning: with small carbide tools, or silicon carbide grinding wheels with chips recovery (Carboloy 883)
Cutting speed: 2.7 to 4.5 m/mn

Advance: 0.051 to 0.08 mm/turn

Depth: 4 to 6 mm
Grinding: with carbide discs sealed with epoxy, at recommended speeds. Use soft discs and of well distributed grains; for important jobs, finish with hard discs and of fine grains. Lubricate with a 1 % oil solution. Polish with white lead on a wedge or a soft rag.
Metalizing: For thick films, use metal inks (silver, gold and silver, platinum). For thin films, work by sputtering.
Comparative Table
A comparative table for the available machinable technical ceramics can be downloaded in the data sheet.
Physical variables included in this documentation are provided by way of indication only and do not, under any circumstances, constitute a contractual undertaking. Please contact our technical service if you require any additional information.