High Temperature Mouldable Felts 1260°C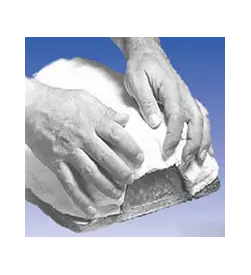 Mouldable Felts, up to 1,260 °C
372 Wrap-It mouldable felt combine Cotronics high purity, refractory fibres with proprietary, inorganic binders in a new and economical wet felt form. Wrap-It is cut to shape, moulded and dried to form a light weight, resilient, highly efficient, thermal insulation that is also resistant to most chemicals and solvents. 
Just air dry to form strong free-standing shapes. Wrap-It will not crack or flake, has excellent thermal shock resistance and is not wet by molten metals. Wrap-It mouldable sheets are ideal for molten metal handling, thermal insulation, fire proofing, burner chambers, field repair, welding supports, fixtures and molten metal dams. 
Applications of Mouldable Felts
High temperature insulation

Fibrous light insulation

Furnace linings

Welding templates


Chutes and ladles for molten metal

Prototype of vacuum moulded shapes

Industrial insulation
Technical Data of Mouldable
 

Felts
Property

Unit

372 Wrap-It

Composition

SiO2

%

65

Al2O3

35

Density

g/cm3

0.288

Peak Temperature

°C

1,260

Melting Point

°C

1,760

Shrinkage after 24 hrs

at 700 °C

%

0.2

at 1,200 °C

2

Thermal Conductivity

at 540 °C

W.m-1.K-1

0.10

at 815 °C

0.13
Packaging of Mouldable Felts
Property

Unit

372 Wrapt-It

Item N°

372-0

372-1

372-2

372-3

Thickness

mm

3

6

12

25

Width

mm

610

610

610

610

Length

m

3.8

3.8

3.8

2.4
High temperature (1,500 °C) and very high temperature (1,650 °C) are produced on request.
Physical variables included in this documentation are provided by way of indication only and do not, under any circumstances, constitute a contractual undertaking. Please contact our technical service if you require any additional information.
Cotronics 372HT is a  wet moldable sheet that will adpat to all geometries. After drying, we achieve a thermal and light insulation which resists to thermal shocks. The sheet is made up of refractory fibers resistant up to 2700°C. This product is available in thickness 12mm, width 600mm and length 3800mm or 1830mm, for bigger packaging please contact us.
Full description