High Temperature Felts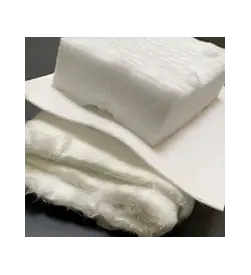 Overview: High Temperature Felts
Final Advanced Materials offers felts and blankets resistant to high temperatures up to 2,500 °C. These products are mainly used for thermal and sound insulation for the manufacture of industrial furnaces, or as a component of thermal protection. Many industries use felts for their manufacturing processes. With varying densities and thicknesses, some references can be aluminized to improve their thermal properties.
Applications of Felts
High temperature protection

Electrical, thermal, acoustic insulation

Alternative to asbestos and ceramic fibres

Catalytic heaters

Industrial furnace insulation
Comparative Table
Property

Unit

Basalt

E-Glass

Silicate

Pure Silica 

Biosoluble

Ceramic

Graphite

Zirconia

Density

kg/m3

120 to 137.5

100 to 160

120 to 170

20
& 130

64 to 128

288

80

0.24 to 0.64

Max. Operating Temperature

 °C

600

550

1,000

1,000

1,000

1,260

500

2,000

Peak Temperature

°C

700

840

1,200

1,200

1,200

1,760

2,000

2,500
Our range of Felts
Basalt Needled Felts, up to 700 °C
Made from basalt fibres of 8 to 16 μm, the felts are classified M0 according to European standard EN 13-501-1. Their temperature resistance covers from – 280 °C to 700 °C. They do not burn, do not melt, produce neither smoke nor toxic gases, and are environmentally friendly and recyclable. They are mainly used as electrical, thermal, and acoustic insulators. In addition, basalt fibre is the most environmentally friendly high temperature resistant material when it comes to both manufacturing and recycling it.
Applications
High temperature protection

Electrical insulation

Thermal insulation
E-Glass Fibre Felts, up to 700 °C
E-glass fibres are the most widespread in use, whether in the textile industry or for composite materials. This high-quality fibre is distinguished by its resistance to high temperatures up to 550 °C and its excellent electrical insulating properties. This fibre is rot-proof, resistant to the most common chemical agents and dimensionally stable, even in the event of substantial variations in humidity and temperature. This felt has excellent mechanical, chemical and dielectric properties. In addition, it can be reinforced with a layer of aluminium to withstand radiant heat up to 1,650 °C.
Applications
Acoustic insulation

Thermal insulation
Silicate Fibre Felts, up to 1,200 °C
These felts are made of more than 98 % silica (S98) and have a silicate fibre base that allows them to withstand application up to 1,200 °C. Asbestos-free and inorganic, these products do not contain toxic substances and are not irritating. Thanks to their good thermal and mechanical properties, they are excellent alternatives to ceramic fibre-based products. Silicate fibre felts do not contain any organic binders. The fibres are mechanically bonded, which makes the felt compact, flexible and gives it a good hold during processing. S98 fibre felts are used in the shipbuilding and automotive industries as heat and acoustic insulation and as a component for thermal and fire protection.

Applications
Heat insulation

Acoustic insulation

Component for thermal and fire protection
Ultra-Pure Silica Felts, up to 1,200 °C
Our ultra-pure silica felts contain 99.95 % SiO2. Composed of silica fibres assembled with polyvinyl alcohol, they can be used in temperatures of up to 1,200 °C. Even at a continuous temperature of 1,000 °C, they do not shrink and retain a very low thermal conductivity and exceptional mechanical properties. Our felts are particularly popular in the aerospace industry for insulating engines thanks to their outstanding insulating and fireproof characteristics as well as their resistance to vibrations and their very long life. Mainly used between two refractory sheets, we also offer flexible solutions made with coated fabrics. Their outstanding properties are also useful for domestic applications such as catalytic heaters and industrial furnace insulation.

Applications
Insulation of industrial furnaces

Catalytic supports for heating systems

Replacement of asbestos and ceramic fibre

Thermal insulation in the manufacture of optical fibre

Engine insulation in aeronautics
Biosoluble Fibres Felts, up to 1,200 °C
Biosoluble fibre felts are obtained from long fibres of alkaline earth silicate. With high thermal stability, they retain a flexible fibrous structure up to a temperature of 1,200 °C. Their high-temperature insulation performance is remarkable. This range of product contains no binders or lubricants and emits no smoke or odour when heated. Biosoluble fibre felts are flexible and easy to cut or install. Biosoluble fibre blankets are available laminated with an aluminium film to improve the thermal properties of the sheets. Biosoluble fibres felts' composition excludes all carcinogenic classification as per Q in directive 97/69 EC, unlike pure silica and silicate fibres. Biosoluble fibres felts are an ideal solution to replace ceramic fibres.

Applications
Chimney, furnace and pipe insulation

Heating and furnace lining

Heat shield

Component in the manufacture of thermal protection
Wet Mouldable Felts, up to 1,750 °C
372 Wrap-It mouldable felt combine Cotronics® high purity, refractory fibres with proprietary, inorganic binders in a new and economical wet felt form. Wrap-It is cut to shape, moulded and dried to form a light weight, resilient, highly efficient, thermal insulation that is also resistant to most chemicals and solvents. Just air dry to form strong free-standing shapes. Wrap-It will not crack or flake, has excellent thermal shock resistance and is not wet by molten metals. Wrap-It mouldable sheets are ideal for molten metal handling, thermal insulation, fire proofing, burner chambers, field repair, welding supports, fixtures and molten metal dams.
Applications
High Temperature insulation

Fibrous light insulation

Furnace linings

Welding templates

Chutes and ladles for molten metal

Prototype of vacuum moulded shapes

Industrial insulation
Soft Carbon & Graphite Felts, up to 2,000 °C
Carbon and graphite felts with thicknesses of 6 and 12 mm with a width of 1,200 and 1,270 mm are available. Specific widths can be provided and special shapes can be cut to your specifications. Soft carbon and graphite felts offer many advantages. They have low thermal conductivity which leads to energy savings of up to 75 %, high resistivity (coupling in an inductive field only occurs above 12 kHz) and do not charge with electrostatic energy. They are thermically stable in oxidizing atmospheres up to 350 °C, in protective or vacuum atmospheres up to approximately 2,000 °C for graphite and 1,000 °C for carbon. Their composition is very pure with very little sulphur and ash content.
Applications
Thermal insulation for vacuum furnaces and inert gas furnaces

Heated smelting and holding furnaces

Inductively heated furnaces

Filters for hot and/or corrosive gases and liquids, for molten metals

Backing strips for soldering and welding
Rigid Graphite Felt, up to 2,000 °C
Rigid graphite felt is available with a thickness of 40 mm (max. size 1,524 x 1,219 mm). This product is made of graphite fibres and a carbon binder. It is suitable for temperatures up to 2,200 °C. Specific widths and shapes can be cut.
Applications
Thermal insulation

Support element

Component of high-temperature furnaces
Zirconium Oxide Fibre Felts, up to 2,500 °C
ZYF zirconium oxide fibre felts are the result of the Zircar Process by Zircar Zirconia which transforms an organic fibre into a ceramic fibre. The new fibre usually has a diameter of 6 to 10 μm and a serrated outer face. It can withstand up to 2,500 °C. Zirconium oxide fibres are made of nearly 100 % zirconia phase stabilized with 10 % yttria. ZYF is a flexible, light weight, porous, needled felt. ZYF is an excellent all-purpose high temperature insulation that can be used in methods of crystal growing as iridium and platinum crucible insulation, and precious metal condensate reclamation material. These felts are inorganic and do not require organic binders.

Other versions have been treated to enhance their properties and are also available:
Advantages

ZYF-50

ZYF-100

ZYF-150

Exceptional thermal insulation even beyond 1,930 °C

Flexible up to 1,350 °C

Low outgassing and odor even at high temperature

Light and porous structure

Low thermal conductivity

High thermal stability 

High resistance to corrosive, oxidizing and reducing atmospheres

ZYF-100A

Similar to the ZYF-100 version but with a lower level of sodium

ZYF-A2.13 

Similar to the ZYF-150 version but harder

Filled with alumina powder and high fired to a rigid board

ZYF-S.75G

Similar to the ZYF-100 version but more flexible

Filled with 0.75 g of silica powder per 1 g of ZYF, remaining pliable

ZYF-Z1.5G 

Similar to the ZYF-100 version

Filleded with 1.5 g of zirconia powder per 1 g of ZYF and dyed green for identification

Applications

ZYF-50

ZYF-100

ZYF-150

All-purpose

High temperature setter

High temperature shield and cover

High temperature insulation

Crystal growth

ZYF-100A

All-purpose

Glass melting

High temperature setter

High temperature shield and cover

High temperature insulation

Crystal growth

Electrolytic cell gasket

ZYF-A2.13 

Diffusion burner membrane for fuel fired heaters installed in long-haul trucks and high end passenger cars

Setter plate for vacuum sintering flat sheets of powdered metal materials

ZYF-S.75G

Gasket material in fuel cells

ZYF-Z1.5G 
Felt type ZYF can be reinforced with Zircar Zirconia cement type ZR-CEM or with Zircar Zirconia hardener type ZR-RIG.
Other coatings or coatings are possible according to your needs.
Physical variables included in this documentation are provided by way of indication only and do not, under any circumstances, constitute a contractual undertaking. Please contact our technical service if you require any additional information.