Cutting Table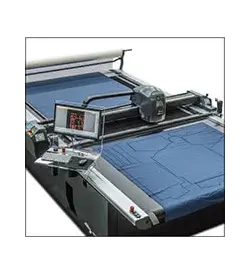 Overview: Cutting Table
Final Advanced Materials has a team of engineers and textile professionals who are at your disposal for the direct execution of customized cutting operations on their premises. The production team can manage a wide variety of materials, whether for production, dressing or furnishing operations, but also for the cutting of technical textiles and composite materials. Your projects can be easily executed as a result.
Final Advanced Materials is proud to be the partner of the companies FKgroup and FKeurope, specialists in high-precision cutting technologies. This collaboration has resulted in the installation of a state-of-the-art digital cutting table in our production workshop.
The Tecno Freccia table provides numerous benefits:
Integrated CAD software

Optimized positioning software

Tracing, cutting and machining functions

Cutting of templates

Cutting of prototypes, pre-series and series production products
Technical Data for the Tecno Freccia Table
The Tecno Freccia automatic cutting table is a multi-functional, accurate, high-speed and efficient machine. It can be used for the processing of a wide variety of materials, including glass fibre, carbon fibre, polyurethane fibre, Kevlar®, PVC, etc. together with thermal insulating materials. This is a highly-valued machine for the production of elements for use in the automobile, aeronautical, construction and furnishing industries.
The Tecno Freccia table has three cutting modes, in addition to a tracing function:
Oscillating blade: for conventional and technical fibres.
Drag knife: a fixed blade, similar to a cutter, permits the cutting of hard or coated materials.
Milling tool: for drilling and the machining of composite panels.
The conveyor permits the execution of automatic cutting operations in single- and multi-layered materials with a compressed thickness of up to 25 mm.
The self-sharpening blade system ensures accuracy of cutting, even during cut-out operations.
The innovative filtration system renders the installation of an additional ventilation system superfluous, and can be used with no special PPE.
Other Technical Characteristics of the Tecno Freccia
Property

Work Space

200 x 180 cm

Dimensions L x L x H

405.9 x 303.6 x 214 cm

Weight

2,350 kg

Power

14 kW

Average Consumption

5 kW

Supply Voltage

400 V ± 10 %
Connected software
FKad Model®
FKad Model® modelling software permits the generation or modification of cutting patterns or models. Intuitive and comprehensive, this software provides all the functions required for the accurate and efficient cutting of clothing and technical elements.
Some examples of available functionalities are set out below:
Drawing;

Definition of cutting and tracing lines, and of seam allowances;

Geometrical transformations;

Management of workpiece information.
FKad Model® also features an option for the importing and exporting of plans and files in image, .dxf, .ISO, and .HPGL formats, together with files generated using other textile design and cutting softwares, such as Lectra, Optitex or Gerber.
Place®
FKad Model® can also supply a Place® module, which permits the optimum automatic positioning of workpieces on the cutting table. It is possible to incorporate cutting constraints in this module, together with the regulation of quilting properties, or the manual positioning of workpieces.
Just Cut®
The simple and intuitive software make all cutting parameters setting fast and safe. The compact and refined styling makes it perfect for any work environment. It allows to choose the type of knife to be used, to resize the pieces, to change or simulate the cutting process.
Physical variables included in this documentation are provided by way of indication only and do not, under any circumstances, constitute a contractual undertaking. Please contact our technical service if you require any additional information.