Mica Tape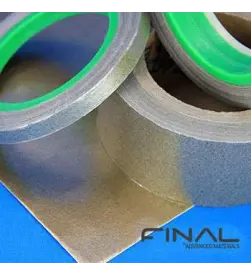 Overview of mica tape
Containing neither halogens nor toxic gases, fibreglass-backed phlogopite mica tape is used in the production of fire-resistant cables. Highly flexible, this product can easily be deployed on high-speed cable wrapping machines.
Composition of Mica Tapes
Phlogopite mica tape (magnesium silicoaluminate) on a fibreglass backing is comprised of a fine-grade phlogopite paper impregnated with a specific high temperature-resistant binder, and reinforced with fibreglass applied to one side of the mica. When the tape is exposed to high temperatures, its resin content breaks down without impairing the high-temperature electrical insulation properties of the mica. Moreover, the mica tape generates no toxic products, and thus does not require the use of personal protective equipment.
Dimensions of Mica Tapes
Fibreglass-backed phlogopite mica tape of thickness 0.15 mm is packaged in tape lengths of 30 linear metres. This product is available from stock in widths of 5 mm, 10 mm, 25 mm and 50 mm, and in A4 sheet format. On request, we can supply widths up to 1000 mm, and can even provide tapes with an adhesive backing.
Main characteristics of Mica Tapes
Fire resistance
The mineral phlogopite shows quite exceptional flame-resistant characteristics. This accounts for the use of the mineral in the production of fire-resistance cables in accordance with the following standards (non-exhaustive list): IEC 331, BS 6387 CWZ, DIN 4102 Part 12, NFC 32-070, VDE 0472-814, etc.. By way of an example, the test executed under Belgian standard NB 30.004 provides for testing at 900 °C for 3 hours, with mechanical impacts at a voltage of 1000 V.
Electrical insulation
The dielectric withstand of the product remains constant up to 380 °C. Dielectric withstand is reduced by half at 700 °C, and reaches 5 kV/mm towards a temperature of 1,000 °C. The fibreglass backing renders the product non-combustible, such that there is no resulting thermal input during the conduct of the flame propagation test.
Chemical resistance
Resistant to water, the mica tape is chemically neutral, non-toxic and entirely free of halogens. Its properties remain intact up to a radiation exposure of 109 Rad. It shows excellent resistance to acids and bases, and to mineral oils and solvents. Only exposure to sulphuric acid is to be prevented.
Characteristics of fibreglass-backed mica tape of thickness 0.15 mm. In practice, the tape is applied to the conductor, with the mica, in one or more layers, with an overlap factor of 20 - 50 %.
Technical data of Mica Tapes
Properties

Units

Standards

Values

Composition

Thickness of tape

mm

IEC 371-2

0.15 ± 0.015

Phlogopite mica content

g/m²

IEC 371-2

145 ± 8

Fibreglass content

g/m²

IEC 371-2

32 ± 2

Binder

content

g/m²

IEC 371-2

25 ± 3

Total weight

g/m²

 

202 ± 20

Weight loss

%

IEC 371-2

<0.5

Water absorption

%

IEC 371-2

<0.5

Dielectric withstand

KV/layer

IEC 371-2

>1.5

Tensile strength

N/cm

ISO 527

>120

Continuous temperature

°C

 

1,000
Conditions of storage: 3 years at ambient temperature. Beyond this date, the tape will lose its flexibility, and will be easily susceptible to deterioration. The tape will nevertheless retain its electrical and thermal properties.