MICA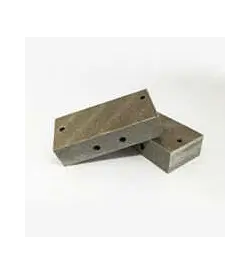 Overview
Final Advanced Materials supplies various types of products comprised of at least 90 % muscovite mica or phlogopite mica (magnesium silico-aluminate). The term "mica" describes a family of minerals which are characterized by a laminar flaked structure. The particular thermal and dielectric properties of these minerals make them suitable for numerous applications, at temperatures up to 1,000 °C. Easy to machine and bond with adhesives, they represent an easy-to-use high-temperature solution.
Manufacturing of Mica
Mica is extracted from natural deposits. Although mica most commonly occurs in the form of fragments or a powder, only laminar mica is of a sufficient quality for the manufacture of effective high-temperature products. Of the numerous varieties of mica, two are employed in high-temperature environments: phlogopite mica, which ranges from brown to green in colour as a result of its magnesium content, and muscovite mica, which contains a higher concentration of aluminium, and is thus whiteish in colour.
General Characteristics of Mica
Health & Safety
Non-toxic

Can be stored as a non-hazardous product

Thermal Characteristics
Peak temperature: 1,000 °C

Good high-temperature resistance

Low thermal conductivity

Non-combustible

Mechanical Characteristics:
Pressure-resistant

Permeable to high-frequency waves
  Chemical Characteristics:

Water-resistant

Chemically neutral, halogen-free

Excellent resistance to acids (excluding sulphuric acid), bases, mineral oils and solvents
Electrical Characteristics
Electrically insulating

Resistant to electrical arcing and erosion

Good dielectric withstand 
Applications of Mica 
Electrical insulators

Thermal insulation

Forging press plates (for the reduction of thermal losses)

Bottle mould extraction guides

Sealing of connections in internal gas distribution systems

Construction of induction furnaces

Burner, exhaust manifold and heat-exchangers gaskets

Mica Products
 

Mica Composites MC-5000HT
Mica composites provide an excellent alternative to asbestos-based products for insulation applications. They are also used in the glassmaking, ceramic and metal industries for the insulation of induction or arc furnaces, injection-moulding machines or electrical components in general. They are available in two high-temperature variants: panel and tube. 
 

Tape and paper
Tape is comprised of a fine-grade phlogopite mica paper (90 % mica) impregnated with a special high-temperature binder and reinforced by glass fibre applied to one side of the mica. This binder breaks down at high temperatures, without impairing the electrical insulating properties of mica, nor generating any toxic products. This product is non-combustible, due to the presence of glass fibre.
Cotronics Adhesives
Final Advanced Materials, in cooperation with Cotronics, offers high-temperature mica-based adhesives. These technical products are extremely flame resistant and can be used as a highly adaptable sealing compound. We offer two products of the sort: Resbond™ 907R and Resbond™ 907GF.
Physical variables included in this documentation are provided by way of indication only and do not, under any circumstances, constitute a contractual undertaking. Please contact our technical service if you require any additional information