Zirconia embedding cement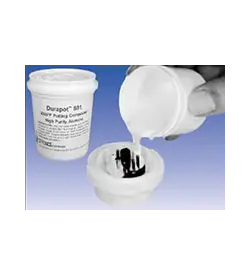 These high temperature potting compounds offer temperature stability plus excellent chemical, solvent and electrical resistance. Durapot 800 series is available packaged in either Quart (US), or Gallon (US) packs. Cure times can be accelerated by mild heat 65ºC to 95ºC, whilst post cures @ 120ºC will improve moisture resistance.
Durapot® 814 was formulated for use where a fast cure is required. Just mix and apply. Will cure in 5 minutes at 80°C - 108°C or overnight at room temperature. It is an excellent choice for production applications.
Technical data
Composition

Units

Durapot® 814

Base

 

Zirconium silicate

Grain size

(min-max)

µm

≤45 - 200

Max Temperature

°C

1093

Resistivity

Ohm.cm

108

Dielectric

Strength

kV/mm

4.9

Thermal Expansion

10-6/K

8.1

Thermal Conductivity

W/m.K

1.15

Pot Life

min

20

Components

 

2

Mix Ratio

base/activator

 

100/30

Cure Cycle Time

Hrs @

Room Temp.

24

Cure Cycle Time

°C

5-15min @ 93°C
Cotronics Durapot® 814 is a high purity ceramic embedding cement . This ceramic has an excellent electrical resistance at high temperatures. It is a zirconia-based powder that can withstand temperatures up to 1093°C and dries very quickly. It is available in 0.94 and 3.7 litres.  For larger sizes, please contact us. We also offer a range of  powders in different particle sizes for mass production applications.
Full description