Zirconia castable cement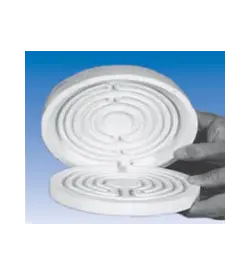 Rescor® Castable Ceramics are available in 6 refractory compositions offering the ultimate selection of ceramics to the materials engineer. Now, an unlimited number of high temperature applications, requiring custom ceramic shapes, can be easily solved. Just mix the ceramic powders with their liquid activators and pour into any non-absorbent moulds.
Rescor® Castable Ceramics harden overnight to produce highly detailed ceramics, usable to 4000°C. They offer excellent resistance to high temperature, thermal shock, molten metals, oxidizing and reducing atmospheres, erosion, most acids and alkalise.
Rescor® 760 is resistant to a temperature of 2200°C. It is the cement with the highest temperature resistance of our entire range. It also has a very good resistance to chemical attack. This cement becomes electrically conductive when the temperature exceeds 900°C.
Technical data
Composition

Units

Rescor® 760

Base

 

ZrO2

Grain size

(min-max)

µm

≤45 - 600

Density

g/cm3

4.0

Max Temperature

°C

2200

Shrinkage (after curing at room temperature)

%

~0

Shrinkage (540°C)

%

1.0

Compressive Strength

N/cm2

2750

Breaking Strength (900°C)

N/cm2

820

Thermal Conductivity

W/m.K

0.94

Expansibility

10-6.K-1

10.1

Breakdown

kV/mm

conductor

Mix (weight) Base

 

100

Catalyser

 

18
Cotronics Rescor® 760 is a ceramic moulding cement  for high temperature applications.  The product has excellent electrical and mechanical properties and very good thermal stability. It is a liquid  zirconia based cement with a temperature resistance of up to 2200 °C.  This means that it has the highest temperature resistance of our entire range.  It is available in 7.5 litre buckets.  For larger quantities, please contact us.
Full description