Castable ceramic cement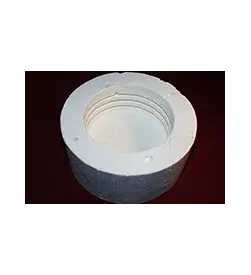 Castable ceramic cement Cotronics® products available in six refractory compositions: Alumina, Ceramic Foam, Silica, Silicon Carbide and Zirconia.
Castable cement Cotronics®
Parts as small as an inch to parts measuring over 6 ft. in length, and over 2000 pounds in weight, are easy to make.
Just mix and pour into any non-absorbent mold and let harden overnight to produce highly detailed ceramics, usable to 2200ºC.
Now an unlimited number of high temps. Problems can be solved with ceramics using an in-house process.
740 - 1260 °C : Al2O3/SiO2 insulating foam
750 - 1480 °C : Shock resistant
760 - 2200 °C : Ultra-high temperature
770 - 1480 °C : Corrosion resistance
780 - 1650 °C : Alumina for general purpose
RTC 60 - 1760 °C : High purity alumina
Cotronics Rescor® 750 is a  ceramic casting cement for high temperature applications.  The product has excellent electrical and mechanical properties and very good thermal stability. It is a liquid  silicate cement with a temperature resistance of up to 1480°C. It is not very dilatable and does not conduct heat well. It is available in 18.5 and 37 litre pots.  For larger sizes, please contact us.
Full description
RTC-70 fine is a  pure alumina based powder Al2O3. It can withstand temperatures up to 1790 °C. It can be mixed with demineralised water. The mixture results in a moulding paste which must be shaped and dried. This paste can be poured onto all non-absorbent materials. The moulds should have sufficient vents to allow proper casting.  RTC-70 mouldable ceramic is available in 3.6 kg.  For larger sizes, please contact us. We offer other  moulding ceramics with unlimited applications at high temperatures. 
Full description