Zetex® Fibre Braided Ropes 700°C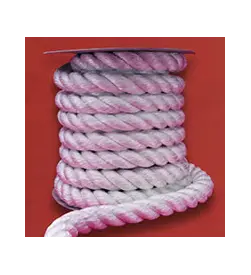 Zetex® Braided Ropes, up to 700 °C
Our partner Newtex offers a wide range of fire resistant and temperature resistant products since 1978. The Zetex® range presents a great variety of heat resistant textiles which can withstand temperatures up to 700 °C. Their performances remain unbeaten up to this day.
Our Zetex® braided ropes are made of braided fiberglass and commonly used in high temperature sealing and packing applications involving hot air, steam, water, fluids, or gases. They are resistant to most acids and alkalis, and won't shrink, stretch, or unravel. 
Braided ropes are stronger, denser, smoother, and more stable than twisted ropes. They are used in packing applications that require greater resistance to compression and mechanical wear. They are available in diameter of 10 mm, 12 mm, 20 mm et 25 mm as well as in a ZetexPlus® version, which withstands up to 1,095 °C.
Applications of Zetex® Braided Ropes
Heat insultation

Insulation of pipes and tailpipes

Sealing boilers and oven & furnace doors
Technical Data of Zetex® Braided Ropes
Property

Unit

Zetex® P-1600

Item N°

1300002

1300003

1300005

1300007

Type

braided

Section

round

Inner Diameter 

mm

9

12

19

25

Spool Length

m

150

150

60

30

Max. Operating Temperature

°C

540

540

540

540

Peak Temperature

°C

700

700

700

700
Physical variables included in this documentation are provided by way of indication only and do not, under any circumstances, constitute a contractual undertaking. Please contact our technical service if you require any additional information.