Zetex® fibres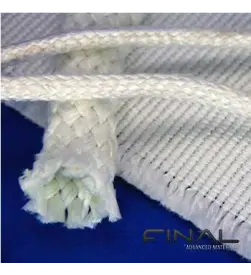 Newtex® has offered a wide range of fire and extreme temperature resistant fabrics since 1978. The quality and performance of Zetex® fibres are now unmatched. The wide and varied range of textiles guarantees resistance to temperatures up to 1095°C.
Zetex® and Zetex®Plus are insulation and thermal protection textiles. They are used in a wide range of industrial applications, seals, compensators, thermal reflectors, curtains, blankets and protective clothing.
Made from textured fibreglass, these textiles not only withstand heat, they can tolerate up to -73°C. The thermal conductivity factor of 0.05 W.m-1.K-1 ensures the insulating quality of the fibre. Zetex® fibres show as well a high dielectric strength, an excellent chemical resistance, and proven rot-proof properties.
Finally, in addition to the numerous treatments that can be carried out to improve the properties of Zetex® products, they have very good mechanical properties. Chemically inert, the fibre has good resistance to abrasion and traction; with an equal diameter, Zetex® fibres have twice the resistance of steel wire.
Zetex® Manufacturing
Zetex® fibreglass is initially manufactured as standard fibreglass. After manufacture of the smooth wire, it is opened by compressed air through a special injector to give it volume. This texturing gives it its unique properties, especially thermal. This textured thread can then be braided, coated or woven into tapes or fabrics.
Properties of Zetex® fibre
For an equal diameter, Zetex® fibre is twice as strong as steel wire. The mechanical quality of the Zetex® fabric offers all kinds of thermal protection.
Zetex® fibre products have remarkable electrical and thermal properties. Their heat-resistant and insulation capabilities are excellent, withstanding temperatures of up to 600°C. Zetex® fibres have excellent resistance to acids, bases and solvents, and mould is no problem either.
Advantages of Zetex® fibre
Excellent thermal resistance to hot and cold (from -73 to 550°C continuously)
Low thermal conductivity (0.05 W.m-1.K-1)
Excellent dielectric strength
Very good resistance to acids (except phosphoric and hydrofluoric), bases and solvents
Rot-resistant
Twice the mechanical properties of steel
Applications of Zetex® products
Thermal insulation
Electrical insulation
Insulation
Expansion joints
Reinforcement of elastomers
Thermal insulation seal
Protection for hydraulic and electrical circuits
Insulation of cables and pipes
Airtight seals
Our range of Zetex® products
Zetex® Fibre Fabrics
Made from textured glass fibres, Zetex® fabrics have exceptional thermal and insulating properties. Composed of inorganic materials, they present no health risks. They are used at a continuous temperature of 540°C and can reach 700°C.
Zetex® Tapes
Zetex® tapes can withstand temperatures of up to 700°C. These tapes are available in 3 product ranges to offer a variety of dimensions but also different flexibilities to suit everyone's requirements.
Zetex® Sleeves
Zetex®fibreglass sleevings from Newtex® are flexible and ideal insulation for wiring, electrical cables and pipes. Available in the standard knitted version or coated with vermiculite, they can withstand temperatures of up to 540°C.
Zetex® braided and twisted Ropes
Zetex®braided and twisted ropes are made with twisted textured fibreglass and are mainly used as insulation joints involving air, gas, liquid or hot steam. They resist most acids and bases and do not undergo dimensional changes at high temperatures.