ZYW Zirconium Oxide Fibre Fabric 2,200°C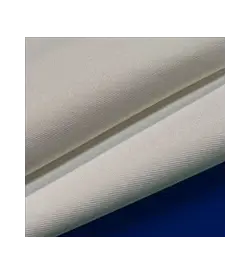 ZYW Zirconium Oxide Fibre Fabrics, up to 2,200 °C
Zirconium oxide fabrics type ZYW are flexible textiles composed of yttria stabilized zirconia fibers. They are manufactured using the original Zircar process by Zircar Zirconia and are constructed of continuous individual filaments mechanically interlocked in a woven structure. This construction offers extreme temperature and chemical resistance in a flexible form. 
ZYW fabrics provide the lowest thermal conductivity of any commercially available refractory material in their class. They are ideal for temperatures up to 2,200 °C and are suitable for applications such as high energy battery separators, thermal insulation in crystal growing furnaces, and hot gas filtration. They are easily cut into fitted portions. 
Applications of Zirconium Oxide Fabrics
High temperature insulation
Heat shielding
Separator for high temperature cells
Separator for high temperature energy batteries
Filter media for hot gases
Protection for threads, tubes and pipes

Technical Data of Zirconium Oxide Fabrics
Property

Unit

ZYW-15

ZYW-30A

Composition*

Wt. % 

ZrO2* +Y2O3: 90

Y2O3: 10

Impurities: <0.25

ZrO2*: 90

Y2O3: 10

SiO2: <0.25

Thickness

 mm

0.38

0.64

Bulk Porosity

%

87

83

Bulk Density

g/cm3

1.02

0.94

Tensile Strength

g/cm

154

872

Area Density

g/m2

291

772

Melting Point

°C

2,590

2,590

Max. Peak Temperature

°C

2,200

2,200

Specific Heat Capacity at 93 °C

J.kg-1.K-1

544

544

Specific Heat Capacity at 2,371 °C

J.kg-1.K-1

754

754

Vapor Pressure at 1,371 °C

Torr

8 x 10-12

8 x 10-12

Shrinkage after 1 hr. at 1,679 °C

%

5.5

3.9
*1-2 % weight hafnia (HfO2) occurs naturally with zirconia (ZrO2) and does not affect performance. 
**Maximum use temperature is dependent of variables such as chemical environment and stresses; both thermal and mechanical.
Chemical Resistance of Zirconium Oxide Fabrics
ZYW zirconium oxide fabrics have an exceptional chemical resistance:
to molten alkali metal chlorides and carbonates at temperatures as high as 700 °C
to aqueous solutions of alkali metal hydroxides at temperatures as high as 220 °C. 
to a mineral acid at its boiling point for short lengths of time.
Extensive contact with hot phosphoric acid, however, causes embrittlement and stiffening due to the formation of zirconium phosphate. 
Molten metals such as copper, aluminum, iron steel, etc., do not wet ZYW and therefore cause little change in either the chemical or the physical nature of these products through many hours of exposure. 
Item N° and Available Size of Zirconium Oxide Fabrics
| | | | |
| --- | --- | --- | --- |
| Zircar Item Nr. |  Final Item Nr. | Name | Dimensions (mm) |
| CD001 | 225-0150 | ZYW-15 | 457 x 610 |
| CE001 | 225-0160 | ZYW-30A | 457 x 610 |
ZYW zirconia fabric is only available as sheet.
Physical variables included in this documentation are provided by way of indication only and do not, under any circumstances, constitute a contractual undertaking. Please contact our technical service if you require any additional information.