Zirconia Fibre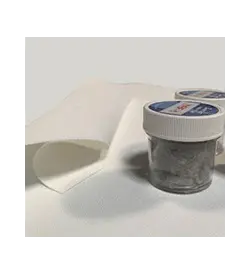 Zirconia fibres products have high temperatures strength and a high resistance against chemical agents. Zirconia fibre has the lowest thermal conductivity of any refractory fibrous products available on the market. The maximum use temperature is 2200°C and the melting begins at 2500°C (depending on the products). The fabrics are constructed of continuous individual filaments and don't require organic binders. 
Main characteristics
• Low thermal conductivity
• High purity
• High temperature stability
• 10% yttria-stabilized zirconia fibres 
Health and safety
• Possible storage as non-hazardous product
Chemical features 
• Very good resistance to molten metals
• No wetting by molten metals: aluminium, steel, copper, ...
• Resistance to boiling mineral acids for short periods
Possible applications fields  
• Thermal insulation in crystal growth furnaces
• Hot gas filtration
• Separator in nickel/hydrogen batteries
• Separator in high-temperature fuel cells
• Catalyst support
• Reinforcement for ablative materials
Product range 
• Felt
• Tube with silica binder
• High density board, disc and tube
• Board, disc and tube
• Powder
• Bulk fibre
• Cloth