Nano T-Ultra Nanoporous Silica Composite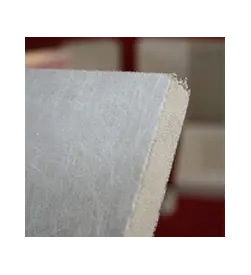 Nano T-Ultra Composite
Nanoporous ceramic are extremely light products for insulation purposes. Their high insulation capacity is a direct result of their nanoporous structure. There are only temporary contacts between particles and the surface ratio is the lowest possible. As a result, the thermal conduction between solid particles is reduced to a minimum. Nanopores also limit convective heat transfer.
All these characteristics make this type of material more efficient than conventional insulating materials such as mineral fibres, refractory bricks and other inorganic products.
This product consists of silica and opacifying agents to minimize infrared radiation.
This material can be protected by various types of packaging, in order to facilitate its use and conservation. For example, PE film or aluminium foils can be employed as a reinforcing material. This packaging also protects the product against mould. Nano T must also be protected against liquids, which may destroy its nanoporous structure. 
Applications of Nanoporous Silica Composite
Tapping launders

Refractory coatings

Storage, heating systems

Melting furnaces

Industrial furnaces

Flame protection

Thermal insulation

Glass treatment
Main Characteristics of Nanoporous Silica Composite
Resistance to high temperatures

Very low thermal conduction

Good machinability for shaping parts

Reinforcement by PE film, aluminium foil and more available

Class A1 flame protection

Thermal shock resistance

Excluded from all carcinogenic classifications

Stored as a non-hazardous and non-pollutant product

Protective packaging is required
Available Nanoporous Silica Products
Product

Type

Dimensions

Thickness

115-1000

Board

1,000 x 650 mm
1,320 x 1,000 mm

10, 12,15, 17, 20, 25, 30, 35, 40, 45, 50 mm

Customed designs are available on request.
Storage 
This product can be stored indefinitely in a dry environment, and may be resistant to humidity, provided that condensation is prevented.
Technical Data of Nanoporous Silica Composite
Property

Unit

Nano T Ultra

Item N°

115-1000

Chemical Composition, after firing

SiO2

%

75-85

SiC

12-20

Other

3-10

Ignition Loss

%

< 1.5

Density

kg/m3

230

Fire Classification

°C

950

Cold Compressive Strength

MPa

0.42

Shrinkage

Both side at 950 °C, 24 hrs

%

< 3

One side at 950 °C, 12 hrs

< 0.5

Thermal Conductivity

at 200 °C

W.m-1.K-1

0.02

at 400 °C

0.027

at 600 °C

0.034

at 800 °C

0.044
Physical variables included in this documentation are provided by way of indication only and do not, under any circumstances, constitute a contractual undertaking. Please contact our technical service if you require any additional information.