Calcium silicate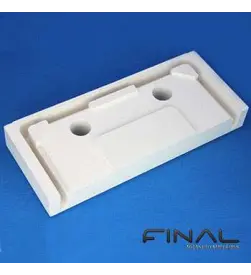 Our calcium silicate based technical composites contain no asbestos fibres, offer excellent thermal, electrical insulation properties and have low shrinkage.
Calcium silicate composites can be sawn, bevelled, drilled, screwed and machined with traditional machines, tools and techniques. For cutting and processing, tools with hard metal tips must be used. The cutting equipment must include a dust extraction system.
Main properties calcium silicate
Low thermal conductivity
Excellent resistance to high temperatures
Electrical insulation
Low shrinkage
Good resistance to compression
Inflammable
Inert material
Easy-to-use
Packaging, subcontracting and storage
Products must be dry-stored. Dry in sterilizer before use if the product has been stored for a long time.
Applications
Each product has been specifically developed to perform a maximum of applications. Do not hesitate to contact us for more information :
Transmission, distribution and flow control elements used in metal casting, floats, pipes and watering cans, stops, injectors and skimmers (M1 only)
Coating of hot surfaces in furnaces
Protection against sparks
Heat-resistant
Thermal interruptions
Hot pipe/duct supports
Airtight seals
Rings
Dust-free coatings of continuous tunnels
Support pads
Bearing supports
Heat band supports
Specifications of materials
LUX
LUX calcium silicate is a thermal insulation products with a very low conductivity. The product contains no asbestos, is insensitive to corrosion and does not react with other materials. LUX calcium silicate is incombustible and fire-resistant and can be used in buildings to ensure fire resistance for up to 240 minutes. He contains no inorganic fibres.
Main properties
Low thermal conductivity
Moisture-resistant
Easy-to-use
Asbestos-free
Solvent-resistant
Applications
Press insulation panel
Furnaces and dryers
Heat protection
Thermal barrier mechanical parts
Boiler separator
DXP
Calcium silicate composite is reinforced with fibreglass and is asbestos-free. It has excellent thermal and electrical insulation, stable up to a temperature of 700°C.
Main properties
Stable up to 700°C (900°C peak)
High mechanical resistance
Easy-to-use
High-performance electrical insulation
No dust created
Asbestos-free
Strong
Thermal insulation
Applications
Industrial furnace components: cast iron and heating
Electrical insulation: arc protection (blow box)
M1 – M1A
Calcium silicate is used in foundries, furnace construction and other industrial applications. This product is suitable for contact with liquid metals up to 850 °C/1000 °C with very low shrinkage.
Main properties calcium silicate
It is dry and insensitive to corrosion when in direct contact with many non-ferrous metals and alloys (Al, Mg, Zn, Sn, Pb)
No reaction to contact with graphite or boron nitride lubricants
Low thermal conductivity
Chemically stable in neutral and alkaline environments (reacts in acidic environments)
High thermal and mechanical resistance
Asbestos-free
Easy-to-use
Applications
Non-ferrous metal melting and casting equipment: for transport, distribution and continuous or cyclic moulding.
Furnace construction: loading plates, coatings in direct contact with metal, mechanical parts.
Chemical industry: mechanical parts
P1100S
P1100S is the best product in the calcium silicate range for optimum thermal insulation.
Main properties
Good mechanical resistance
Very good thermal insulation
Stable at high temperatures
Easy-to-use
Applications
Petrochemical
Furnaces
Steel industry
Food industry
Glass industry
Aluminium industry
D1000C
Asbestos-free calcium silicate. Very good thermal and electrical insulation, stable up to a temperature of 1000 °C. This product has a high dielectric strength and arc resistance.
Main properties
Thermal insulation (thermal conductivity decreases as temperatures increase)
Stable up to 1000°C
High mechanical resistance
Easy-to-use
No organic binders
High-performance electrical insulation
Chemically stable in alkaline environments (reacts in acidic environments)
Good arc resistance, high resistivity
No dust created
Non-combustible
Asbestos-free
Applications
Support parts for industrial furnaces
Insulators for metal smelting
Electrical insulation
Electrical arc protection for connection equipment
Thermal and electrical separators
PRO-H
PRO-H is a non-combustible insulation board made from special calcium silicates reinforced with special fibres and fillers. It is off-white, and its finish is smooth on one side and sanded on the other side. The board can be left uncoated or can be easily painted or lined. It is resistant to moisture and does not deteriorate when used in potentially wet conditions. Its performance does not degrade with age or the presence of moisture.
Main properties
Moisture-resistant
No deterioration when used in potentially wet conditions
Performance does not degrade with age or the presence of moisture
Applications
Tunnel coating, protection of concrete walls and floors
Service compartments
Panels and access hatches, fire doors
Protection of steel structures
Ceiling membranes
Steel duct covering, self-supporting ducts
Utility shafts
Partitions (EI)
Concrete structure protection (R)
Filling for fixed frames
Glass partition frames (EI)
Calcium silicate fields of application
This list includes the main areas of application for each of our items but is not exhaustive. We can make a specific choice for you based on a complete description of your required application/use.
So we can help you select your materials and assist you with your project, please let us know :
Maximum, minimum, peak and continuous temperatures
Mechanical constraints (compression, vibration, etc.)
Chemical constraints
Type of environment
Geometry, tolerances, plans
Specifications of your applications
Fire protection - Building applications
Electrical insulation
Steel making - Contact with non-ferrous liquid metals
Thermal insulation - Machinal parts
High-performance thermal insulation
Technische Daten
PROPERTY

DXP

LUX

M1

M1A

D1000C

PRO-H

P1100S

Classification temperature

°C

700

900

850

1000

1000

-

1050

Density

Kg/m3

1800

950

850

970

1050

870

300

Crush-resistant up to 200°C

MPa

185

25

17

35

30

9.3

2.5

Bending strength (room temp.)

MPa

45

7

8

10

15

4.5

1.5

Linear expansion

10-6K-1

6.6

7.3

6.1

6.2

5

-

5.4

Thermal conductivity 20˚C

W/mK

-

-

-

-

-

0.175

-

200°C

W/mK

0.38

0.26

0.2

0.21

-

-

0.07

400°C

W/mK

0.34

0.25

0.21

0.23

0.25

-

0.08

600°C

W/mK

0.32

0.25

0.22

0.24

0.27

-

0.09

800°C

W/mK

 -

0.25

0.23

0.25

0.29

-

0.10

Heat capacity

kJ/kg.K

 1.05

1.03

 -

-

0.9

-

1.03

Shrinkage

(length/width)

%

0.5 (750°C 12h)

0.8  (1000°C 12h)

0.1-0.4 (750°C 12h)

0.02 0.05 (750°C 12h)

0.3 (750°C 12h)

-

01.5  (1050°C 12h)

Electrical rigidity

kV/m

1800 

-

 -

-

3900

-

-
Availability
Our products are available in panel format. We can manufacture your product in our workshops according to your plans.
Maximum size of panels 3000 x 1200 mm
Thickness up to 100 mm