Technical textiles manufacturing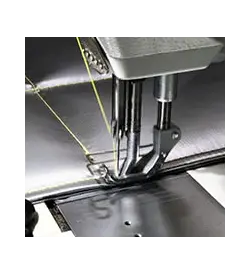 Final Advanced Materials offers tailor-made thermal protection straight from its textile production workshop. Our production team works with all types of technical textiles: fabrics, strips, sheaths, cords and braids, paper, felts and high-temperature flat blankets. We use all kinds of materials: Aramid, Fiberglass, Zetex®, Basalt, ZetexPlus®, Silicate, Pure Silica, Biosoluble, Monofilament Ceramics and Zirconia. Variations on our standard products are available to meet your needs: coatings, lamination, adhesive surfaces and many more.
Our production workshop
With our expertise and our experienced team, here at Final Advanced Materials we have put in place many varied technical resources to create our range of products providing high-temperature protection:
CAD and thermal insulation software
Digital plotters
Digital cutting tables
Industrial sewing machines
Templates and prototypes
Injection systems for flexible parts
Rivets and eyelets
Bonding
Complex, manual production and finishing
Closing and fastening systems
Tailor-made manufacturing solutions
As a manufacturer of industrial thermal protection, flame and fire protection, thermal insulation and heat shielding solutions, Final provides products that are fully adapted to your dimensional and environmental constraints. We cater to:
Chemical constraints
Physical constraints
Thermal constraints
The nature of the environment
Thermal and electrical insulation
The nature of the materials in contact
Health and safety standards
Compliance with standards and certifications
Fields of application
Final Advanced Materials offers industrial thermal insulation solutions for all types of companies in the following sectors:
Aeronautics and space
Naval
Transport
Medical
Food industry
Research
Manufacturing
Some of our products
Here at Final Advanced Materials we design different types of products providing high-temperature protection according to the technical specifications you provide.
Thermal insulation mattresses
Thermal insulation mattresses are our flagship product from our industrial thermal isolation range. Our classic mattresses are composed of:
A specialised fabric membrane
Fibrous insulation
Stitching with high-temperature thread
Additional finishes are available if required:
Additional layers of fabric
Closing or fastening systems
Reinforcements and inserts
Hand finish
Rivets and eyelets
Injection
Various thermal protections
Final Advanced Materials offers other types of industrial thermal insulation:
Industrial thermal insulation for valves, piping and flanges.
Sheaths for piping and exhausts
Airtight seals
High-temperature thermal screens
Anti-spray/splash screens
Flame protection
Fire protection