Silicon Carbide SiC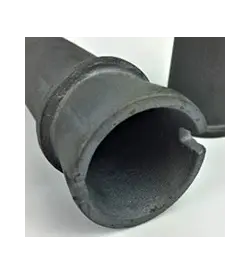 Le carbure de silicium (SiC), aussi connu sous le nom de carborundum ou de moissanite, est une céramique composée de silicium et de carbone.

Le carbure de silicium est extrêmement rare et il n'est pas naturellement fabriqué au centre de la Terre. En fait il se trouve en petite quantité dans certains types de météorites et à l'état de trace microscopique dans certains corindons et kimberlites. Aussi tous les carbures de silicium vendus dans le monde sont synthétiques Comme les oxydes et les nitrures, le carbure de silicium est un matériau d'usure très résistant, qui exige des outillages de meulage diamant pour le traiter après cuisson. Les carbures sont utilisés principalement, bien que pas exclusivement, pour les applications dans lesquelles l'usure physique a une importance majeure. Ce sont les matériaux parmi les plus durs qui existent.
Propriétés remarquables :

Grande dureté
Bonne résistance aux chocs thermiques
Grande conductivité thermique
Faible dilatation thermique
Excellente inertie chimique


Applications :

Réfractaires
Résistances chauffantes
Usinage : outils de coupe, pièces de frottement
Joints d'étanchéité des pompes à eau
Support de catalyseur



Nous pouvons mettre à disposition nos compétences pour tout conseil technique ou toute réalisation de pièces de formes spécifiques (usinage, confection, étude, analyse thermique ...).
Final Advanced materials provides Cotronics high temperature castable ceramic cement for applications up to 2200°C.
Full description
Final Advanced Mateiral can offer custom made crucible made out of SiC Silicon Carbide
Full description
Final Advanced Materials provides high temperature silicon carbide sintered ceramics. Our products are available with porous or with dense silicon carbide, depending on your needs. We can provide rods, plates or machine parts according to your drawings.
Full description