Refractory Alumina Foam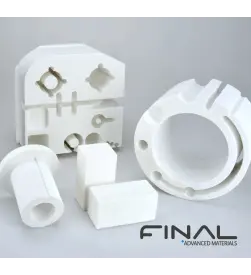 SIZAL-Cell® is a range of non-fibrous insulation products manufactured from alumina microspheres. Ultra-light, SIZAL-Cell® is designed for high-temperature applications up to 1800°C.
Ceramic foam board
The main component of the insulation is a microsphere made from alumina. An exclusive and innovative process allows the industrial production of this unique element. The internal structure of the cell is a honeycomb-like thread that ensures the mechanical quality of the insulation, whatever the temperature of use. A specific binder means the assembly is homogeneous - this particular construction is light and porous and, consequently, insulating and mechanically efficient.
Main properties
Guaranteed use up to 1800°C.
Effective in all atmospheres, including reducing or oxidising atmospheres.
Low thermal conductivity
Low density, ultra-light insulation, easy to use
Long life, no shrinkage or distortion, no decrease in quality and performance over time.
Excellent resistance to thermal shock. Suitable for repeated and rapid hot and cold cycles, allowing production to increase without premature wear to the furnace lining
Good resistance to abrasion and burner gas flows.
Stabilised chemical composition allowing a wide range of applications, with no pollution to the furnace atmosphere.
Free from fibres and organic binders, and safe and environmentally friendly
No carcinogenic classification in accordance with regulation EC No. 1907/2006 REACH.
Applications 
Insulation panels for industrial or laboratory installations
Furnace linings (electric and gas)
Furnace, burner or turbine components.
Mechanical parts, part supports, and more.
Repairs
Technical Specifications
Référence

Unités

1260-380

1430-380

1540-380

1650-420

1705-420

1750-700

Classification temperature 

°C

1260

1430

1540

1650

1705

1700

Chemical composition (%)

Al2O3

50.2

59.8

65.3

70.4

80.5

99.5

 

SiO2

46.4

38.1

32.1

28.5

17.8

< 0.3

 

Autre

3.4

2.1

2.6

1.1

1.7

< 0.2

Mineral Phase

 

Mullite + Corindon

Mullite + Corindon

Mullite + Corindon

Mullite + Corindon

Mullite + Corindon

Alumina

Continuous operating 
temperature

°C

1160

1330

1440

1550

1605

1650

Short-duration 
operating 
temperature

°C

1210

1380

1490

1600

1650

1750

Density

kg/m3

380

380

380

420

420

700

Open porosity

%

88

87

86

86

87

83

Resistance to cold crushing

MPa

1.2

2.6

3.1

4.2

2.9

7

Resistance to cold bending

MPa

0.7

0.9

2

2.6

1.8

3

Permanent dimensional variation after 24 hours

%

±0.3 (1230°C)

+/- 0.33

(1400°C)

+/- 0.12 (1510°C)

+/- 0.43 (1620°C)

+/- 0.29 (1680°C)

/

Thermal conductivity 200°C

W/m.K

0.13

0.15

0.2

0.18

0.17

/

400°C

W/m.K

0.14

0.17

0.21

0.21

0.19

/

600°C

W/m.K

0.19

0.19

0.22

0.24

0.21

/

800°C

W/m.K

0.2

0.22

0.24

0.26

0.25

0.68

1000°C

W/m.K

0.21

0.25

0.27

0.3

0.28

0.75

1200°C

W/m.K

/

0.28

0.3

0.33

0.31

0.80

Standard dimensions

mm

900 x 600 x 50

900 x 600 x 50

900 x 600 x 50

900 x 600 x 50

900 x 600 x 50

560 x 360 x 100