Zirconia ceramic adhesive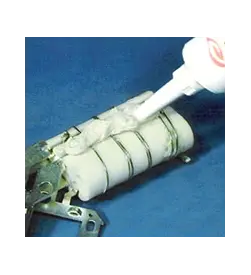 Cotronics® Resbond® high temperature adhesive are based on high purity ceramic binders and selected reinforcing fillers.
These adhesives have excellent adhesion to ceramics, metals, glass and plastics. They offer excellent high temperature stability, dielectric strength, mechanical properties and thermal shock resistance.
Zirconium dioxide Cement ZrO2
Resbond® 904
Resbond® 904 extreme temperature adhesive surpasses the capabilities of most materials to provide 2200°C service. 904 is a smooth, creamy paste that is easily applied and air dried to form a hard surface. Resistant to molten metals, most chemicals and solvents, oxidizing and reducing atmospheres. It is ideal for bonding and forming electrical, oxidation erosion and liquid metal resistant coatings for ceramics, graphite and thermocouple tubes.
Resbond® 940
Resbond® 940 has excellent adhesion to ceramics, glass, metals, etc. Offers excellent electrical, chemical and thermal shock resistance.
Technical data
ZrO2 Cement Adhesive

904

940

Peak Temperature

°C

2200

1093

Components

 

1

2

Consistence

 

Painting

Paste

Charge

 

ZrO2

ZrO2

Compressive Strength

N/mm² (20°C)

41.4

27.6

Flexural Strength

N/mm² (20°C)

20.7

12.4

Thermal Conductivity

W/m °C

2.16

1.15

Thermal Expansion

x 10-6 K-1

7.4

8.1

Dielectric Strength

kV/mm

9.75

4.9

Resistivity

Ω.cm

108

108

Mix Ratio

Powder - Binder

N.A.

100-28

Cure Temp.

Hrs @

Room Temp.

24h

24h

Cure Temp.

°C

4h @ 65°C

5-15 min @ 93°C