Beads: Zirconium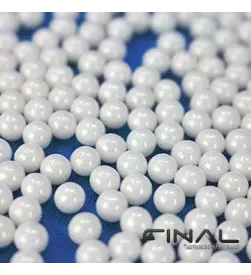 Zirconium Beads
Final Advanced Materials supplies three varieties of ceramic beads: two in alumina and one in zircon oxid.  These beads are distinguished by their high degree of adaptability to challenging environments and their exceptional strength characteristics. These beads are highly rated in the watchmaking, medical and automobile sectors.
Manufacturing
Ceramic is produced from a chemical composition based upon several oxidized raw materials. The resulting powder is compacted, then moulded by dry pressing. The moulding is then sintered at high temperature to develop its polycrystalline ceramic structure.
Zirconium Oxide Beads
Zirconium oxide beads can be used 2 to 3 times longer than metal or carbide beads in highly abrasive and corrosive environment. They are also much heavier than alumina oxide beads.
Applications of Zirconium Beads
High-precision and high-speed ball bearings

Hip replacements

Valves or relief valves

Measuring devices

Reference spheres for three-dimensional measuring machines

Probes for three-dimensional measuring machines
Benefits of Zirconium Beads
Exceptional hardness

Strong resistance to friction and wear

High elastic modulus

High chemical, thermal and mechanical resistance

Strong electrical insulating properties

Low porosity
Technical Data of Zirconium oxide stabilized with cerium beads
Property

Unit

Pure Alumina Oxide Beads

Item N° 

055-0120

Diameter

mm

from 0.40 to 3.30

Composition

ZrO2

Wt %

83

CeO2

17

Colour

golden brown

Surface Finish

satin, smooth, glossy

Density

g/cm3

6.20 ±0.05

Bulk density

kg/l

3.85 ±0.05

Porosity

Nil

Water Absorption

Nil

Hardness on Mohs' scale

9

Hardness on Vickers's scale (HV5)

1,250-1,300

Crushing Strength (Ø 2 mm)

N

2,107

Bead Sphericity 90 %

≥ 0.95

Max. Operating Temperature

°C

1,050

Cumulated Weight Loss / Hour (wear test conducted with water)

after 24 hrs

%

0.0015

after 96 hrs

0.0010
Physical variables included in this documentation are provided by way of indication only and do not, under any circumstances, constitute a contractual undertaking. Please contact our technical service if you require any additional information.