Castable Ceramic Cement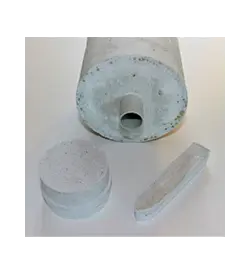 Rescor® Castable Ceramics are available in 6 refractory compositions offering the ultimate selection of ceramics to the materials engineer. Now, an unlimited number of high temperature applications, requiring custom ceramic shapes, can be easily solved. Just mix the ceramic powders with their liquid activators and pour into any non-absorbent moulds.
Rescor® Castable Ceramics harden overnight to produce highly detailed ceramics, usable to 4000°C. They offer excellent resistance to high temperature, thermal shock, molten metals, oxidizing and reducing atmospheres, erosion, most acids and alkalise.
Rescor® 740 liquid foam forms lightweight, high strength, machinable, thermally and electrically insulating parts usable to 1260°C. Just mix the ceramic powder with its liquid activator and pour into non- absorbent moulds. Hardens overnight to produce high strength, insulating prototypes and parts.
Can be used up to 1260°C with high temperature structural stability and excellent resistance to oxidizing and reducing atmospheres. Resistant to molten non-ferrous metals, steam most chemicals and solvents.
Suitable for near net shape processing which involves casting a ceramic blank into a shape that requires minimal or no machining to final shapes. Post curing Rescor® 740 improves its machinability.
Technical data
Composition

Units

Rescor® 740

Base

 

Al2O3-SiO2

Grain size

(min-max)

µm

≤45 - 300

Density

g/cm3

0.64

Max Temperature

°C

1260

Shrinkage (after curing at room temperature)

%

0.5

Shrinkage (540°C)

%

1.0

Compressive Strength

N/cm2

1030

Breaking Strength (900°C)

N/cm2

620

Thermal Conductivity

W/m.K

0.14

Expansibility

10-6.K-1

8.1

Breakdown

kV/mm

3.9

Mix (weight) Base

 

100

Catalyser

 

64
Cotronics Rescor® 740 is a  ceramic moulding cement for high temperature applications. It is a lightweight, low density but very strong insulating foam.  It is an  alumina silicate based cement that is resistant up to 1260°C and can be diluted with water. It is available in 3.7 and 18.5 litre packs.  For larger sizes, please contact us.
Full description