Moulding cement and resin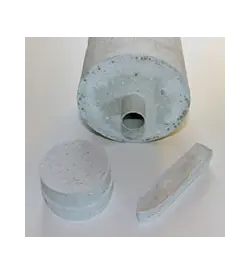 Final Advanced Materials provides a range of high temperature Cotronics® products for moulding and casting from 200 up to over 2000°C : epoxy resin, silicone and cement.
The selection of a high temperature moulding product is quite complicated. With the following information we will be able to assist you in the material selection and the realisation :
Maximum / minimum / continuous / peak-temperature
Mechanical stress ( pressure, vibration,. ..)
Chemical exposure
Type of environment
Geometry, tolerances, drawings
Description of the application
Objectives
Ceramic cement for moulding and encapsulating
With Cotronics® products, Final Advanced Materials can provide you high temperature inorganic cement. The type of ceramic, fluidity, thermal insulation, thermal expansion, ... will be specially selected to match your application's need.
High temperature moulding epoxy resin
Up to 350°C Cotronics® Durapot® epoxy resin can be selected for your application. Depending on the reference and the type of charge in the resin you can get a product :
High or low viscosivity
Thermal conduction or insulation
Electrically conductive or insulating
High or low thermal expansion
Curing at room temperature or heat-curing
High temperature moulding silicone
Up to 340°C continuous (420°C peak-temperature) Cotronics® Duraseal® silicones can be used :
One component formulations
No mixing, measuring  or mess
No harsh or acidic odors
Bonds to metals, glass, ceramics, plastics, etc.
No special activators or primers
Will not  corrode metal surfaces
Resistant to electricity, most chemicals and solvents
Safe for the most delicate electronic components