Aramid Fibre Sleeves 400°C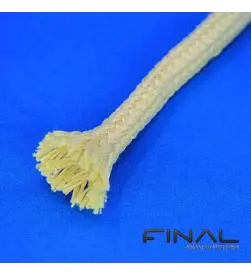 Aramid Fibre Sleeves, up to 400 °C
Final Advanced Materials presents 100 % para-aramid fiber sleeves. Made from continuous filaments, they have excellent mechanical properties such as a tensile strength similar to steel products. They maintain their characteristics in operating temperature up to 350 °C and can withstand a peak of 400 °C. They also have good resistance to chemicals and to abrasion.
Recognised for their resistance to abrasion and their mechanical and thermal characteristics, our sleeves are made with various diameters to suit your requirements. As with our ropes, they are mainly used for thermal sealing, but also in the glass industry and to insulate cables.
Applications of Aramid Sleeves
Thermal insulation

Insulation of cables
Technical Data Aramid Sleeves
Property

Unit

Item N°

207-1502

Diameter

 mm

10

20

25

30

Length

mm

50

50

50

50

Max. Operating Temperature

m

350

350

350

350

Max. Peak Temperature

°C

400

400

400

400
Other dimensions are available on request.
Physical variables included in this documentation are provided by way of indication only and do not, under any circumstances, constitute a contractual undertaking. Please contact our technical service if you require any additional information.