Aramid Fibre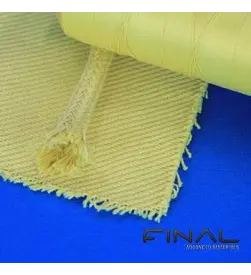 Final Advanced Materials has a wide range of aramid products available: threads, tapes, fabrics, packings, sleeves, braided ropes, self-gripping tapes, etc.
What Are Aramid Fibres?
The word 'aramid' is a contraction of 'aromatic polyamide'. The chemical name is para phenylene terephthalamide or PPD-T. Created in the 1960's, aramid fibres consist of yellow filaments of about ten microns in diameter, assembled into threads. There are three main families of polyamides:
Para-aramids: used in many fields with high-tech applications, they are mainly known under the brand name Kevlar®, from DuPont, and are used for their mechanical properties.
Para-aramid copolymers: derived from para-aramids, these are also used for their excellent mechanical properties.
Meta-aramids: these are mainly recognised for their thermal and chemical characteristics and are known under the brand name Nomex® from DuPont. They are mainly used in the fields of technical textiles and protective clothing.
Manufacturing of Aramid Fibres
Paraphenylenediamine is reacted with terephthalyl chloride in an organic solvent to obtain PPD-T. The polymer obtained is dissolved in sulphuric acid. The polymer is then partially oriented into a liquid crystal form. This polymer is extruded in a die and spun. The filaments are cooled by an air jet. The washing, drying and spooling phases are then carried out. The difference between para-aramid and meta-aramid arises from the place the functional groups have on the aromatic rings.

Source : INRS, 2018
General Characteristics of Aramid Fibres
Traction modulus and resistance
The aramid fibres have a tensile strength equivalent to that of steel and a traction modulus that can be up to two times higher than that of glass. These properties make it a balanced material with excellent tensile strength.
Compressive strength
Aramid fibres have poor compression characteristics, which is a probable consequence of their poor adhesion to resins.
Flexural strength
Aramid fibres have poor compression characteristics, which is a probable consequence of their poor adhesion to resins. 
Elongation at break
The fibre is elastic under a low load and plastic under a heavy load, demons-trating a degree of similarity with metals.
Resistance to UV
Aramid fibres are highly sensitive to UV rays (loss of characteristics and discolouration). It is advisable to store aramid fibre materials away from light.
Thermal characteristics
Aramid fibres have good thermal resistance. The elastic modulus under tension keeps at 300 °C more than 80 % of its value at room temperature. Aramid fibres are used continuously at an average temperature of 200 °C. They have a coefficient of thermal conductivity of around 0.05 W.m-1.K-1.

Benefits of Aramid Fibres
High tensile resistance

High elastic modulus

Excellent vibration damping factor

Low density

Excellent thermal stability from –70 °C to 200 °C

Does not sustain combustion, does not melt

Carbonisation at 425 °C

Good resistance to fatigue

Excellent dielectric properties

Good chemical resistance to fuel and seawater but not strong acids and bases
Comparative Table
| | | | | | |
| --- | --- | --- | --- | --- | --- |
| Property | Unit |  E-Glass | Steel | Aramid | HT Nylon |
| Tensile Resistance | MPa | 3,400 | 2,600 | 2, 400 to 3,000 | 990 |
| Traction Modulus*  |  GPa | 70 | 200 | 45 to 160 | 5.6 |
| Allongement à la rupture | % | 4.5 | 2 | 1.9 to 4.5 | 18 |
| Density | g/cm3 | 2.6 | 7.8 | 1.44 to 1.47 | 1.14 |
| Peak Temperature | °C | ~700 | ~800 | ~300 | ~170 |
*Young's tensile modulus: the proportionality factor between pressure and deformation, characterising the elasticity of a given material. //Source: INRS
Applications of Aramid Fibres
Reinforcement of rubber materials (pneumatic, transport belts, piping, transmission belts)

Reinforcement of composite materials (sports, aeronautical, naval, protective shielding)

Reinforcement of cables (rope, telecommunication cables, etc.)

Protective fire and ballistic clothing

Friction and sealing (brakes, clutches, seals)
Product Range in Aramid Fibres
Our aramid products are primarily made from continuous fibres to achieve the best possible mechanical properties. We offer different aramid textile formats to suit all requirements:
Threads
We offer two ranges of technical-use threads.
Kevlar® threads can continuously withstand 170 °C. Easier to handle than fibreglass threads, they are used in many technical fields:
Ballistics (bullet-proof vests)

Safety shoes

Protective clothing: heat resistant, flame resistant, cut resistant (gloves, loggers' trousers)

Composite materials

Airbags

Air dust extraction filters (hot gas filtration)

Tyres (reinforcement)
Nomex® threads are particularly suitable due to their thermal protection, thanks to their self-extinguishing properties and a continuous application temperature of 220 °C. A highly technical thread, they are used for particularly targeted purposes: 
Heat and flame resistant clothing, textiles and stitching

Safety shoes

Protective gloves

Aircraft seats

Airbags

Tapes
Tapes
Our tapes are composed of continuous para-aramid fibres, which gives them excellent mechanical and thermal properties. They are mainly used in the glass industry, valued for their homogeneity and the regularity of their weaving, in the manufacture of fire resistant materials and as conveyor belts.
Braided Ropes
Their properties are similar to tapes. They are mainly used as seals. In order to offer diversified technical solutions, we have a range of ropes available in round or square sections.
Sleeves
Recognised for their resistance to abrasion and their mechanical and thermal characteristics, our sleeves are made with various diameters to suit your requirements. As with our ropes, they are mainly used for thermal sealing, but also in the glass industry and to insulate cables.
Fabrics
Woven in plain weave, 100 % para-aramid fabrics have excellent thermal characteristics. In addition to their good insulating properties, they can reach a peak temperature of 500 °C and a continuous temperature of 350 °C. In addition to this, they have excellent resistance to cuts, abrasion, tearing and acids, as well as excellent mechanical properties. Available in different versions (aluminised, fleece, etc.), they are particularly suitable for the manufacture of protective clothing and thermal insulation.
100% para-aramid (Kevlar®) fabrics always include a cross-twill woven version (two single twills in different directions). Particularly resistant to high temperatures up to 450 °C and cuts, it is mainly used to reinforce protective clothing. Coated versions (silicone, aluminium, flame retardant, etc.) are available.
Packings
Packings are made of a glass-fibre core and of a para-aramid fibre sleeve. The glass-fibre core of the packing improves its thermal and mechanical properties Primarily used as insulation products, they are ideal for industrial furnaces.
Physical variables included in this documentation are provided by way of indication only and do not, under any circumstances, constitute a contractual undertaking. Please contact our technical service if you require any additional information.