Aramid Fibre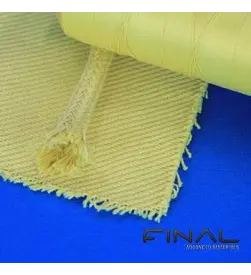 Overview
The word 'aramid' is a contraction of 'aromatic polyamide'. The chemical name is para phenylene terephthalamide or PPD-T. Created in the 1960s, aramid fibres consist of yellow filaments of about ten microns in diameter, assembled into threads. There are three main families of polyamides:
• Para-aramids: used in many fields with high-tech applications, they are mainly known under the brand name Kevlar ® , from Du Pont, and are used for their mechanical properties.
• Para-aramid copolymers: derived from para-aramids, these are also used for their excellent mechanical properties.
• Meta-aramids: these are mainly recognised for their thermal and chemical characteristics and are known under the Nomex ® brand from Du Pont. They are mainly used in the fields of technical textiles and protective clothing. 
Traction modulus and resistance
The aramid fibres have a tensile strength equivalent to that of steel and a traction modulus that can be up to 2 times higher than that of glass. These properties make it a balanced material with excellent tensile strength.
Elongation at break
Depending on the type of fibre, it is 2.8% (E = 131 GPa) or 4% (E = 83 GPa), the intermediate between those of glass fibres and carbon.
Thermal characteristics
Aramid fibres have good thermal resistance. The elastic modulus under tension keeps at 300°C more than 80% of its value at room temperature. Aramid fibres are used continuously at an average temperature of 200°C. They have a coefficient of thermal conductivity of around 0.05 W.m -1 .K -1 .
Compressive strength
Aramid fibres have poor compression characteristics, which is a probable consequence of their poor adhesion to resins.
Flexural strength
The fibre is elastic under a low load and plastic under a heavy load, demonstrating a degree of similarity with metals.
Resistance to UV
Aramid fibres are highly sensitive to UV rays (loss of characteristics and discolouration). It is advisable to store aramid fibre materials away from light
Avantages
• High tensile resistance
• High elastic modulus
• Excellent vibration damping factor
• Low density
• Excellent thermal stability from -70°C to 200°C
•  Does not sustain combustion, does not melt, carbonisation at 425°C 
•  Good resistance to fatigue 
•  Excellent dielectric properties 
•  Good chemical resistance to fuel and seawater but not strong acids and bases 
Applications
•  Reinforcement of rubber materials (pneumatic, transport belts, piping, transmission belts) 
•  Reinforcement of composite materials (sports, aeronautical, naval, protective shielding) 
•  Reinforcement of cables (rope, telecommunication cables, etc.) 
•  Protective fire and ballistic clothing 
•  Friction and sealing (brakes, clutches, seals) 
Our Aramid products
Threads, Ropes, Sleevings, Tapes, Fabrics