Quartz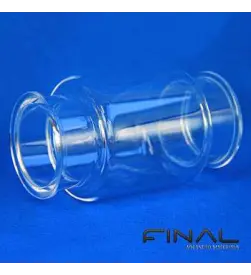 Machinable Ceramic: Quartz
Final Advanced Materials uses quartz for the manufacture of a wide variety of refractory products. This material, which occurs extremely commonly on Earth, is a type of hard crystalline mineral which, in the natural state, is principally comprised of silica and oxygen.
Although quartz is employed in numerous industries, it is particularly highly rated in the high-temperature sector for its stability and its thermal resistance. Our products are derived from a highly refined quartz sand. This process permits the achievement of a final ceramic with the highest possible degree of purity.
Manufacturing
Quartz sand is melted in a metal crucible, under a neutral atmosphere, by the action of electrical heating resistors. Using this method, the raw material is then moulded into semi-finished elements of electrically fused quartz.
Other production methods exist: flame melting, plasma arc melting or electric arc fusion.
Applications of Quartz Ceramic
Substrates for laser applications: windows, lenses, prisms, mirrors, etc.

HT screens for semiconductor applications

Substrates for IR and UV applications

Tubes for horizontal and vertical furnaces

Casings

Laser-perforated injectors

Door panels

Pedestals

Receptacles for chemical etching and cleaning

Optical windows

Combustion tubes for analyzers
General Characteristics of Quartz Ceramic
Electrical characteristics
Quartz is classified as a good electrical insulator, as it maintains a high resistivity, even at high temperatures, together with excellent high-frequency characteristics.
Conversely to typical conductors, such as metals, the resistivity of quartz decreases as the temperature rises.
The dielectric constant of quartz has an approximate value of 4, which is substantially lower than that of other glass materials.
Thermal characteristics
Quartz has a very low coefficient of expansion, several times lower than that of other common materials. This low expansion permits this material to resist a thermal impact of extreme severity.
Mechanical characteristics
The tensile strength of quartz is dictated by external factors: surface quality, product design and chemical influences from the atmosphere. Surface condition is highly important: defects in this property are the main cause of tensile failure.
Chemical characteristics
Quartz is highly sensitive to alkaline and earth alkaline compounds, which accelerate its devitrification (recrystallization) at high temperatures. Consequently, it is recommended that this material should be handled using gloves. 
Benefits of Quartz Ceramic
Excellent thermal insulation

High tensile strength

No binders or lubricants required

Good thermal stability

Low thermal accumulation

Excellent chemical stability and resistance to the majority of corrosive agents.

Exceptional flexibility and resilience

Insensitivity to thermal impacts

Non-carcinogenic, according to note Q of Directive n° 97/69 EC
Deployment of Quartz Ceramic
Hot working (e.g. for the closure of a tube, or the formation of an elbow bend in a component)

Digitally-controlled machining

Laser cutting

Water jet cutting

Control rooms with 3D metrology facilities
Technical Data of Quartz Ceramic
Property

Unit

Quarz

Item N°

055-0040

Composition

Main component

%

SiO2: 99,98

Impurities

Al: 15
Ca: 0.5
Cu < 0.05
Cr < 0.05
Fe: 0.1
K: 0.4

Li: 0,6
Mg: 0.05
Mn < 0.05
Na: 0.3
Ti: 1.1
Zr: 0.7

Mechanical Characteristics at 20 °C

Density

g/cm3

2.2

Hardness

Mohs

5.5-6.5

Knoop (MPa)

5,800 - 6,100

Elasticity Modulus at 20 °C

MPa

7.25 x 104

Torsion Modulus

MPa

3 x 104

Poisson Coefficient

0.17

Compressive Strength

MPa

1,150

Tensile Strength

MPa

50

Flexural Strength

MPa

67

Torsion Strength

MPa

30

Sound Speed

m/s

5,720

Thermal Characteristics

Softening Temperature

°C

1,710

Annealing Temperature

°C

1,125

Max. Operating Temperature

°C

1,160

Max. Peak Temperature

°C

1,300

Specific Warmth

0 - 100 °C

Jkg-1K-1

772

0 - 500 °C

964

0 - 900 °C

1,052

Thermal Conductivity

at 20 °C

W.m-1.K-1

1.38

at 100 °C

1.47

at 200 °C

1.55

at 400 °C

1.84

at 950 °C

2.68

Thermal Expansion Coefficient

0 - 100 °C

10-6K-1

0.51

0 - 600 °C

0.54

0 - 900 °C

0.48

-50 - 0 °C

0.27

Electrical Characteristics

Electrical Resistivity

at 20 °C

Ω.m

1016

at 400 °C

108

at 800 °C

6.3x104

at 1,200 °C

1.3x103

Dielectric Strength

at 20 °C

kV/mm

25-40

at 50 °C

4-5

Loss Tangent

at 1 kHz

tg δ

5x10-4

at 1 MHz

1x10-4

at 3 x 1,010 Hz

4x10-4

Dielectric Constant

0 - 106 Hz

ε

3.7

9 x 108 Hz

3.77

3 x 1,010 Hz

3.81
Physical variables included in this documentation are provided by way of indication only and do not, under any circumstances, constitute a contractual undertaking. Please contact our technical service if you require any additional information.