Monofilament Ceramic Fabrics 1700°C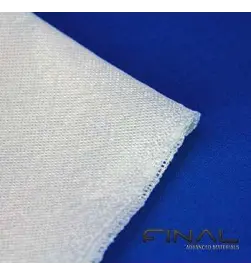 Monofilament ceramic fabrics are resistant to continuous temperatures of 1100°C and 1370°C, respectively. They are mainly used in the industry as a heat shield or fire barrier.
A "Heat Cleaned" coated version is available to limit irritations for customised applications as well as flying fibres and the amount of smoke generated during exposure to high temperatures.
Applications of Monofilament Ceramic Fabrics
Fire barrier
Thermal shield
Insulation gasket seal
Thermal insulation
Curtain and lining
Expansion gasket
Matrix in the manufacture of composites
Technical data of Monofilament Ceramic Fabrics
Properties

Units

 

 

Material

 

Monofilament Ceramic Fabrics 1100°C

Monofilament Ceramic Fabrics 1370°C

Reference N°

 

080-0310 to 080-0390

080-0410 to 080-0430

Composition

%

Al2O3 : 62.5% ; SiO2 : 24.5% ; B2O3 : 13%

Al2O3 : 70% ; SiO2 : 28% ; B2O3 : 2%

Continuous temperature

 

1100

1370

Peak temperature

 

1700

1700

Thermal conductivity

W/m.K at 100°C

0.10

0.12

Thermal conductivity

W/m.K at 500°C

0.14

0.16

Thermal conductivity

W/m.K at 1000°C

0.18

0.19

Linear shrinkage

% (15h at 1300°C)

< 1.5%

< 0.5%
Packaging
Properties

Units

Material

 

Monofilament Ceramic Fabrics 1100°C

Reference N°

 

0310

0320

0330

0340

0350

0360

0370

0380

0390

Weight

g/m²

110

290

270

310

440

540

610

810

980

Width

mm

970

970

1100

970

910

1270

910

910

100, 300 ou 760

Thickness

mm

0.38

0.41

0.36

0.38

0.53

0.76

0.81

1.00

1.40

Weave

 

No gas

5 Satin

5 Satin

Canvas

5 Satin

4 Satin

4 Satin

5 Satin

Double sided canvas
Properties

Units

Material

 

Monofilament Ceramic Fabrics 1370°C

Reference N°

 

080-0410

080-0420

080-0430

Weight

g/m²

510

680

880

Width

mm

910

910

910

Thickness

mm

0.53

0.81

0.97

Weave

 

5 Satin

4 Satin

5 Satin