E Glass Fibre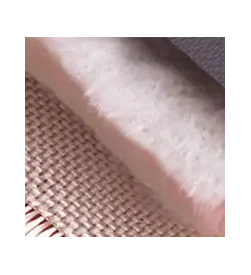 As early as 1930, the first large-scale industrial application of E glass fibre was the insulation of electrical conductors subjected to high temperatures.
E-glass thread is the most used, whether in the textile industry or for composites, its share reaching 90% of reinforcements. A high-end fibre, it is characterised by its resistance to continuous high temperatures of up to 550°C and its excellent electrical insulation properties.
E glass fibre is rot-proof, can withstand the main chemical agents and remains dimensionally stable, even under intense variations of humidity and temperature.
Glass fibres with a filament diameter of more than 9 μm cause irritation of the skin, so we only offer glass fibres with a filament diameter of 6 μm or 9 μm
The E glass fibre products we offer complement Newtex®'s range of textured fibreglass products.
Manufacturing of E Glass Fibre
Boron oxide is added to silica, lime, alumina and magnesia, while alkaline oxides are excluded, in order to obtain the fibreglass. This composition is then ignited and at around 800°C, the molten paste begins to take on a viscous consistency, then liquid: it vitrifies.
At 1400°C, it is almost homogeneous, but the last bubbles and impurities only disappear from the glass at 1500°C. When refined, the molten mass is perfectly transparent when it leaves the furnace and the mass is passed through dies (platinum alloy plates pierced with hundreds of holes) to produce a glass thread. This thread is then sized, wound and dried.
Other types of glass include
R glass: high mechanical performance: This type of filament was created at the request of advanced sectors such as aviation, space and munitions. It meets the specifications of material resistance to fatigue, temperature or humidity. Thanks to its high technical performance, it can be used to strengthen helicopter blades, aircraft floors, rocket fuel tanks, and missiles and their launchers.

D glass: excellent dielectric characteristics: D-based glass composites, which have very low dielectric losses, are therefore used as a permeable material for electromagnetic waves with enormous advantages in terms of electrical properties.

AR Glass: Alkali Resistant: AR glass is specially developed for the reinforcement of standard cement mortars. The high zirconium oxide content makes it resistant to the alkaline compounds generated during solidification.

C Glass: C Glass is used for the production of glass veils requiring corrosion resistant properties (external protection of pipes, protective layer of composite pipes).
Properties of E Glass Fibre
Mechanical and physical properties
E-glass fibre products are particularly resistant to abrasion and vibration and have excellent flexibility. The glass thread has a higher specific resistance (tensile strength/volumetric mass) than that of steel. This feature makes it possible to develop glass threads that reinforce high performance composites.
Electrical and acoustic properties
Its excellent electrical insulation properties, even at low thickness, combined with its mechanical strength and its behaviour at different temperatures, were the basis for the first applications of the glass thread.
Thermal properties
E-glass fibre has low thermal conductivity. For felt, for example, conductivity is 0.03 W/m.K. The fibre can withstand temperatures of over 600°C and is non-combustible.
Chemical resistance
Fibrous E-glass fibre products are resistant to oils, solvents and most chemical agents. They are also rot-proof.
Dimensional stability
Glass fibre thread is insensitive to variations in temperature and humidity and has a low expansion coefficient.
Advantages of E Glass Fibre
Inorganic
Good resistance to abrasion and vibrations vIncombustible
Rot-resistant
Resistant to the main chemical agents
Excellent dielectric strength
Excellent dimensional stability
Compatible with organic dies
Applications of E Glass Fibre
Electrical and thermal insulation
Various reinforcement
Composite products
Sealing for oven doors or piping
Protection of cables, sheaths and pipes
Induction coil protection
Our range of E Glass Fibre products
E Glass Fibre Threads
We offer E glass fibre sewing threads for the manufacture of thermal protection or thermal, dielectric or chemical insulation solutions.
E Glass Fibre packings
E glass fibre packings have excellent mechanical, thermal and dielectric properties. They are available in round or square sections.
E Glass Fibre Felts
Needled E glass fibre felts has excellent mechanical, chemical and dielectric properties and can withstand a continuous temperature of 550°C.
E Glass Fibre Braids and Ropes
To complement the Newtex® range, we also supply braids and cords in square or rectangular cuts of E glass fibre.

E-Glass Fibre packings consist of an outer sheath made of 9 μm E-glass fibre and a ceramic fibre core, suitable for high temperature applications.
Full description

Final Advanced Materials provide a wide range of Glass Fibre felt for high temperature applications, thermal insulation and fire resistance
Full description

Final Advanced Materials provide a wide range of Glass Fibre thread for high temperature applications, thermal insulation and fire resistance
Full description