E Glass Fibre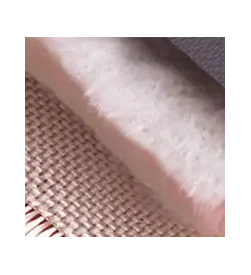 Final Advanced Materials offers a full range of products in various forms of E-glass fibre: packings, felts and sewing thread.
What is Fibreglass?
E-glass fibre has been in use since 1930, in large-scale industrial applications, as a high-temperature insulator for electrical conductors. E-glass fibres are the most widespread in use, whether in the textile industry or for composite materials, and are present in 90 % of reinforcements. This high-quality fibre is distinguished by its resistance to high temperatures and its excellent electrical insulating properties. This fibre is rot-proof, resistant to the most common chemical agents and dimensionally stable, even if substantial variations in humidity and temperature.
E-glass filaments of diameter exceeding 9 μm can cause skin irritations. For this reason, E-glass fibre cords supplied are produced from textured and twisted strands of diameter ranging from 6 to 9 µm.
These E-glass products complement Newtex's product range.
Fiberglass manufacturing
E-glass fiber's manufacturing follows several steps. First, boron oxide is added to silica, lime, alumina and magnesia. Alkaline oxides are excluded from this mix. This composition is then ignited and at around 800 °C, the molten paste begins to take on a viscous consistency, then liquid: it vitrifies. At 1,500 °C, the last bubbles and impurities disappear from the glass. When refined, the molten mass is perfectly transparent when it leaves the furnace and the mass is passed through dies (platinum alloy plates pierced with hundreds of holes) to produce a glass thread. This thread is then sized, wound and dried.
General Characteristics of E- Fibreglass
Physical and mechanical characteristics
E-glass fibre products are particularly resistant to abrasion and vibration and have excellent flexibility. The glass thread has a higher specific resistance (tensile strength/volumetric mass) than that of steel. This feature makes it possible to develop glass threads that reinforce high-performance composites.
Thermal Properties
E-glass fibre has low thermal conductivity. For felt, for example, conductivity is 0.03 W.m-1.K-1. The fibre can withstand temperatures of over 600 °C and is non-combustible.
Chemical Properties
Fibrous E-glass products are resistant to oils, solvents and most chemical agents. They are also rot-proof. 
Dimensional Stability
Glass thread is insensitive to variations in temperature and humidity and has a low expansion coefficient.
Electrical properties
Its excellent electrical insulation properties, even at low thickness. 
Benefits of E- Fibreglass
Inorganic

Good resistance to abrasion and vibrations

Incombustible

Rot-resistant

Resistant to the main chemical agents

Excellent dielectric strength

Excellent dimensional stability

Compatible with organic dies
Comparison
Property

Unit

E-Glass

Pure Silica
Kevlar®

Density

g/cm3

2.6

2.2

1.44

Poisson Coefficient

-

0.25

0.16

0.36

Breaking Strength

MPa

2,400

3,600

3,000

Elongation

%

3.5

7.7

2.4

Linear Expansion Coefficient

10-6/K-1

9 

0,54

- 2

Max. Operating Temperature

°C

550

1,000

300

Peak Temperature

°C

700

1,200

450

Specific Heat at 20 °C

J.kg-1. K-1

720

750

1,420

Thermal Conductivity
at 20 °C

Wm-1. K-1

0.8

1.8

0.4
Applications of E Fibreglass
Electrical insulation

Thermal insulation

Various reinforcement

Composite products

Transport

Buildings

Aeronautics

Sealing for oven doors

Sealing for piping

Protection of cables, sheaths and pipes

Insulation

Induction coil protection

Products from E-Fibreglass
Threads
The flexibility of E-glass fibre permits the design of high-strength sewing yarns for the production of thermal protection systems or thermal, dielectric or chemical insulation solutions.
Packings
Packings consist of an outer sheath made of 9 μm E-glass fibre and a ceramic fibre core, suitable for high temperature applications up to 700 °C. They have excellent mechanical, thermal and dielectric properties. They are available in round or square sections. Packings are mainly used as seals for the insulation of industrial furnaces and in the metallurgical industry.
Felts

 
Needled fibreglass felts are made of thermally stable, cut E-glass fibre. This felt has excellent mechanical, chemical and dielectric properties. In addition, it can withstand a continuous temperature of 550 °C, and can be reinforced with a layer of aluminium to withstand radiant heat up to 1,650 °C. They are mainly used in the naval and automotive industries for thermal and acoustic insulation.
Ropes
E-glass fibre twisted ropes are produced from textured and twisted strands of diameter ranging from 6 to 9 µm. These products are soft, and extremely flexible. These are employed in applications involving continuous exposure to temperatures up to 550 °C. Versions sheathed in stainless steel or glass fibre are available, to permit the compaction of the rope and increase its abrasion-resistance. E-glass fibre ropes are available in diameters ranging from 3 to 50 mm.
Braided Ropes
Produced in round or square sections, E-glass fibre braided ropes are manufactured from textured strands of diameter ranging from 6 to 9 µm. These are employed in applications involving continuous exposure to temperatures up to 550 °C. Various treated versions are available: silicone-, rubber- or PTFE-coated, graphite-impregnated, aramid-combined or stainless-steel sheathed. This permits the improvement of the mechanical properties of braided ropes, the prevention of contamination by stray fibres or the improvement of leak-tightness. Braided ropes are available in standard diameters ranging from 4 to 60 mm.
Any fraying of cut sleeving is prevented by two knitted versions: white for applications up to 550 °C, and black for applications up to 700 °C, under continuous exposure to these temperatures. The knitted manufacturing process also improves the elasticity of sleeving, and restricts the occurrence of stray fibres. Round- or square-section braided ropes may be stainless steel-reinforced, graphite-impregnated or sleeved in stainless steel or glass fibre for the improvement of resilience, mechanical properties and abrasion-resistance, or the prevention of contamination by stray fibres. These product references are available on request.
Sleeves
E-glass fibre sleeves are highly flexible, thereby facilitating the insertion of cables or pipes to be insulated. These sleeves are used for the thermal protection and electrical insulation of cables and pipes. Silicone-coated, lacquered or stainless steel-clad versions are available on request, for the improvement of mechanical and dielectric properties and the prevention of the loss of stray fibres. Sleeves are available in standard diameters ranging from 12 to 60 mm, in braided or knitted versions.

Physical variables included in this documentation are provided by way of indication only and do not, under any circumstances, constitute a contractual undertaking. Please contact our technical service if you require any additional information.