Glass Fibre Sewing Threads 840°C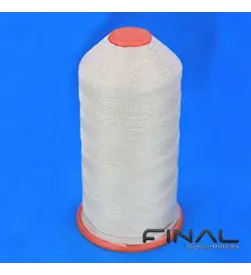 Final Advanced Materials offer sewing threads for the manufacture of thermal protection or thermal, dielectric or chemical insulation solutions. Glass fibre thread is insensitive to variations in temperature and humidity and has a low expansion coefficient.
E-glass fibre products are particularly resistant to abrasion and vibration and have excellent flexibility. The glass thread has a higher specific resistance than that of steel. This feature makes it possible to develop glass threads that reinforce high performance composites. Its excellent electrical insulation properties, even at low thickness, combined with its mechanical strength and its behaviour at different temperatures, were the basis for the first applications of the glass thread. The fibre can withstand temperatures of over 600°C and is non-combustible. E-glass fibres products are resistant to oils, solvents and most chemical agents. They are also rot-proof.
E-glass Fibre Threads applications
Seals for insulation
Weaving
braiding
Technical data
| | | |
| --- | --- | --- |
| Properties | Units |   |
| Construction |   | Textured and/or twisted thread |
| Reference |   | 120-2000 |
| Size | dtex | 340 to 40,000 |
| Resistance to traction | N/mm² | 3400 to 3700 |
| Young's module |   | 72.3 |
| Elongation at break (ISO 2062) | % | 3.3 to 4.8 |
| Thermal dilatation coefficient | 10-6.K-1 | 5 |
| Electrical resistance | Ω*cm by 20°C/250°C/450°C | 1015/1013/1011 |
| Continuous temperature | °C | 550 |
| Peak temperature | °C | 840 |