Aramid Self-gripping Tapes 260°C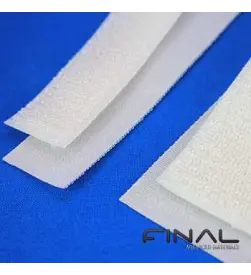 Comprised of Aramid loops and polyamide monofilament hooks, high-temperature self-gripping tapes are self-extinguishing and non-melting. They are resistant to a continuous temperature of 140°C, resistant to cold, and resistant to general chemical products (excluding acids) and are certified to aeronautical and automobile standards.
Applications of Aramid Self-gripping Tapes
Military: production of camouflage uniforms and equipment,
Automobile: passenger compartment fixings,
Aeronautics: attachment of thermal insulation.
Technical data of Aramid Self-gripping Tapes
Physical properties
Épaisseur de la fermeture : 3,1 mm (crochet 1,6 mm/boucles 2,5 mm)
Masse surfacique : 0.078 g/cm²
Mechanical properties
Point de rupture de la bande : 300 N/cm
Élongation à la rupture : 70 %
Résistance à l'arrachement : 1 N/cm (0,8 N/cm au bout de 1000 cycles)
Résistance au cisaillement : 7 N/cm² (5 N/cm² au bout de 1000 cycles)
Résistance à la traction : 4,5 N/cm² (3,5 au bout de 1000 cycles)
Thermal properties
Température continue : 140°C, 235°C pour les crochets en Inox
Température maximale d'utilisation : 260°C (crochets)
Résistance aux températures négatives
Chemical properties
Bonne résistance aux alcalins, aux solvants, aux hydrocarbures et aux alcools
Faible résistance aux acides
Maintenance
Lavable à 95°C

Lavage à sec

Repassage (bande fermée)
Standards
Aéronautique : FAR/EASA CS 25-853 Appendix F Part 1 (a) (1) (ii) 12s
Automobile : FMVSS-302
Availability of Aramid Self-gripping Tapes
Properties

Units

Hook Reference N°

 

002-0015

002-0010

002-0030

Loop Reference N°

 

002-0025

002-0020

002-0025

Coulour

 

White or Green

White or Green

White

Width

mm

25

50

25

Width of edge

mm

2.5

2.5

2.5

Length

m

250

200

250

Application Temperature

°C

140

140

235

Max. Temperature

°C

260

260

>300

Availability

 

On request

White available from stock, Green on request

On request