High Temperature Tapes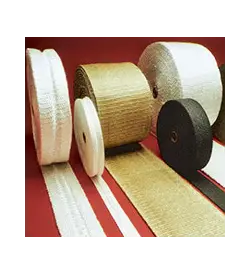 Overview: High Temperature Tapes
Final Advanced Materials offers a wide variety of high temperature tapes. These tapes are mainly used for the thermal and/or electrical insulation of cables or piping, or as a component of manufactured thermal protections. 
The composition of the tapes depends on the customer's needs. It can be made from aramid, basalt, silicate, biosoluble or alumina fibres. This large sample guarantees great adaptability to facilitate the installation of the tapes in your structure. Variable width and thickness, some references of tapes can be adhesive on one side or manufactured in bolt hole version, in order to facilitate the setting up. We also offer grip tapes for thermal protection or as a high temperature closure system.
Applications of Tapes
Thermal or electrical insulation of pipes and exhausts

Expansion seals

Conveyor belts

Manufactured thermal protections
Comparative Table
Property

Unit

Grip Tape

Aramid

Zetex®

Basalt 

Z-Rock®
ZetexPlus®

Silicate

Biosoluble

Ceramic

Max. Operating Temperature

°C

140 to 235

350

540

815

815

1,0001

1,0502

6503

1,0504

1,100

Peak Temperature

 °C

260 to 300

500

700

1,095

1,095

1,1001

1,2002

1,200

1,700
1S94 2S98 3glas reinforcement 4Inconel® reinforcement 
Our Range of Tapes
Aramid Grip Tapes, up to 235 °C
Made of aramid loops and polyamide monofilament hooks, high-temperature grip tapes are self-extinguishing and non-melting. They resist to an operating temperature of 140 °C, to cold, and to general chemical products (excluding acids) and are certified to aeronautical and automobile standards. The grip tapes exist with stainless steel hooks which improve their thermal resistance up to 235°C.
Applications
Military: production of camouflage uniforms and equipment

Automobile: passenger compartment fixing

Aeronautics: attachment of thermal insulation
Aramid Tapes, up to 400 °C
Consisting of para-aramid fibres, our tapes can withstand an operating temperature of 350 °C and peak temperature of 400 °C. With excellent properties such as their resistance to tearing, to abrasion and mechanical resistance, aramid tapes feature good stability for a wide variety of chemical products.
Applications
Fire protection

Conveyor belts

Glass industry
Zetex® Tapes, up to 700 °C
The Zetex® tapes meet all the requirements of fire resistance. They are mainly used for thermal insulation and sealing of industrial furnaces. Several versions are available: the standard version with textured fibre glass threads, with a vermiculite coating, reinforced with stainless steel threads to increase the mechanical properties and their resistance to vibrations, or the bolt hole version. These tapes can withstand temperatures of up to 700 °C.
Applications
Thermal insulation

Insulation of pipes and exhausts

Expansion seals

Airtight seals

Insulation
Newtex also offers a range of coatings for its Zetex® tapes:
Coatings available:

ZetexPlus®

Vermiculite, increases temperature tolerance.

Heat Cleaned (HC)

 Reduction of the amount of smoke generated.

Color Dye

Application of colors for identification.

Pressure Sensitive Adhesive (PSA)

For temporary positioning and hold, e.g. during gasket installation.

Regular Treatment (RT)

Reduction of the amount of flying fibres thanks to an acrylic coating.

Silicone

 Improvement of the resistance to abrasion, fluids and chemicals.

Wire Reinforcement

Higher mechanical strength of the strip by adding steel wire.
Subject to a minimum order quantity (depending on the Item N°)
Z-Rock® Basalt Tapes, up to 1,095 °C
Newtex's Z-Rock® basalt fibre belts are mainly used in the automotive industry for the insulation of exhaust systems. Basalt fibres allow an operating temperature of 815 °C and peak temperature of 1,095 °C. Made in the USA, these belts have characteristics comparable to ZetexPlus® products. They are however more flexible and have a better finish that prevents them from snagging during installation. They are both lighter and more resilient than belts of glass. Being incombustible, these belts have good resistance to UV, chemicals and radiation.
Applications
Exhaust systems

Insulation (pipes)

ZetexPlus® Tapes, up to 1,095 °C
ZetexPlus® are Zetex® tapes strips with a vermiculite coating that can withstand up to 1,095 °C. These strips are available in three product ranges to offer a variety of dimensions but also different flexibilities to suit everyone's requirements. They are mainly used for thermal insulation and sealing of industrial furnaces.
Applications
Thermal insulation

Insulation of pipes and exhausts

Expansion seals

Airtight seals

Insulation

Silicate Fibre Tapes, up to 1,200 °C
Silicate fibre products are inorganic, and contain no toxic substances (asbestos-free) or irritants. The good thermal and mechanical properties of these products make them excellent replacements for asbestos-based products. With a diameter ranging from 6 to 9 μm, these fibres pose no hazard to health. In comparative terms, silicate fibre-based textiles have superior high-temperature resistance to biosoluble fibre textiles.
S98 products are comprised of over 98 % silica. They are suitable for high-temperature applications up to 1,200 °C.
S94 products contain over 94 % SiO2, and function as excellent thermal insulators at temperatures up to 1,100 °C. Adhesive tapes and bolt hole versions are available on request to facilitate installation.
Applications
Electrical insulation

Insulation of cables and pipes

Produces thermal protection
Biosoluble Fibre Tapes, up to 1,200 °C
Biosoluble fibres are guaranteed asbestos and ceramic fibre-free. In order to eliminate the health risks associated with exposure to ceramic fibres or rock fibres for insulation, their chemical composition has been adapted. These fibres dissolve in bodily fluids such as those found in the pulmonary alveoli. They are less biopersistent, meaning they are eliminated more quickly by the body while maintaining their excellent thermal insulation and fire protection qualities. Biosoluble fibre strips are available in 2, 3 and 5 mm thicknesses with widths of 25 to 100 mm. Adhesive strips and strips with bolt holes are also available. Our biosoluble fibre products are reinforced with glass (650 °C) or refractory steel (1,050 °C).
Applications
Insulation for pipes and exhausts

Electrical insulation

Metal work

Insulation for furnaces
Ceramic Tapes, up to 1,700 °C
The ceramic tapes are particularly designed for the thermal, eletrical and mechanical applications under extrems conditions. The references 080-0700 are mostly made of Al2O3 at different percentages. They are resistant to continuous temperatures up to 1,100 °C. Their thermal properties outperform most materials such as aramid, glas or quartz. The alumina tapes are particularly suitable for the insulation and protection of cables, tubes and pipes and to strengthen packaged products. A Heat Cleaned coated version is available to limit irritations for customised applications as well as flying fibres and the amount of smoke generated during exposure to high temperatures.
Applications
Thermal insulation

Insulation of pipes and exhausts

Electrical insulation

Reinforcement of made-up products
Physical variables included in this documentation are provided by way of indication only and do not, under any circumstances, constitute a contractual undertaking. Please contact our technical service if you require any additional information.