Machinable Ceramics: Alumina 96%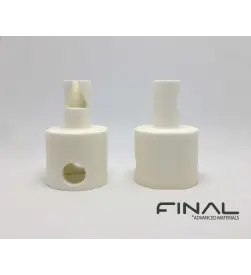 Final Advanced Materials offers a comprehensive range of high-temperature resistant, machinable technical ceramics. We provide custom machining according to blueprints. Machinable alumina is also available in bars or plates, ready for use.
Overview: Machinable Alumina
Machinable alumina is ready-to-use and requires no thermal treatment. However, Cotronics®960 hardener can be used for the improvement of surface resistance, with a heat treatment at 320 °C. This machinable ceramic can withstand temperatures up to 1,650 °C, and is resistant to molten metals, acids, solvents and thermal impacts. This material is employed, in the ready-to-use state, in the electrical and electronic industries, in metallurgy, and in high-temperature vacuum technologies.
Final Advanced Materials can supply ceramic bars or plates for your own use, but it is also possible for us to undertake the complete execution of your project. 
Available Products
Type

Dimension

Plate

from 6 mm x 150 mm x 150 mm

to 19 mm x 150 mm x 150 mm

Rod

from Ø6 mm x 150 mm 

to Ø88 mm x 300 m

We machine your parts according to your drawings.
Applications of Machinable Alumina
Prototypes, brazing

Fixings for welding, vacuum applications, HF heating

Various supports

Electrical components, insulators.
Machining instructions
Alumina can be machined using conventional high-precision tools. Work is executed in the following stages:
Lubrication of the tool in service using water. Water ensures cooling, and prevents cracks.
Cutting of material using agglomerated silicon carbide or diamond abrasive wheel, at speeds ranging from 1,800 to 2,600 rpm. A 23 m/min high-speed steel bandsaw, with 14 unlubricated teeth, is employed for the cutting of outlines.
Drilling with tungsten carbide bits, at a speed of 2,000 rpm. for diameters up to 6 mm and at 1,000 rpm. for larger diameters – a diameter of 12 mm (1/2") must never be exceeded.
Thread cutting using a tungsten carbide tool or a grinder fitted with a diamond wheel.
Tapping with high-speed steel or tungsten carbide. A pilot hole, to 70 % of the final diameter, is drilled in preparation.
Turning, using a steel or tungsten carbide tool, or a silicon carbide grinder.
Technical Data of Machinable Alumina
Physical variables included in this documentation are provided by way of indication only and do not, under any circumstances, constitute a contractual undertaking. Please contact our technical service if you require any additional information.