Machinable Alumina Al2O3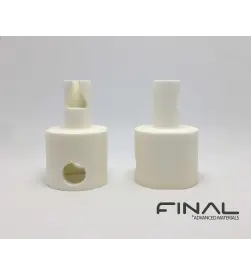 Final Advanced Materials provides machinable ceramics. Cotronics machinable alumina Al2O3 is available in boards and rods, we can machine according to drawings

Machinable alumina presentation
Cotronics Rescor 960 is a 96% Alumina, Machinable Ceramic that is usable to 1650°C. It is manufactured from high purity alumina by a unique process.  
Machining can be accomplished with conventional tooling on standard shop equipment. No heat treatment is required.    
Rescor 960 Machinable Alumina can be used continuously to temperatures of 1650°C and offers the convenience and economy of an in house capability for Alumina parts.
The chemical, thermal and electrical properties of Rescor 960 is equivalent to standard high alumina ceramics.    
Machinable alumina applications

Rescor 960 is ideal for applications in electrical, electronic, metallurgical, fixtures and vacuum industries.    


MATERIALS

Machinable alumina

Machinable boron nitride

Aluminium nitride (Shapal MTM)

Machinable Aliminium Nitride

Properties

960

Final®BN HP

166-Shapal

055-AlN usinable

Physical characteristics

Density g/cm3

3.8

1.85

2.9

2.9

Porosity %

10

14

0

< 0,1

Water uptake %

2 - 3.5

/

0

0

     Mechanical characteristics

Hardness

Mohs : 5

Knopp : 4 kg/mm²

Vickers : 3900 Mpa

Vickers : 3750 Mpa

Compressive strength N/mm²

422

20

1200

1170

Flexural strength N/mm²

267

50

300

300

Modulus of Elasticity GPa

/

/

190

180

Thermal characteristics

Peak temperature °C

1650

850

1000

1000

(1900 sous vide)

 Continuous temperature °C

1650

850

1000

1000

Specific Heat 20°C J/kg°K

/

1.5

/

/

Thermal Conductivity 100°C W/m°K

4.61

90

90

90

CoeffCoefficient of Expansion 10-6 /°K

 

 

 

 

20 - 40 °C

/

/

4.4

/

20 - 600 °C

/

/

4.8

4.5

20 - 800 °C

/

/

5.1

/

20 - 1000 °C

/

0.57

/

/

Electrical characteristics

Specific resistivity at 20°C Ohmcm

1014

1014

1012

1012

Dielectric constant at 20°C à 1 KHz

9 (à 100kHz) 

4

7.1

7.1

Loss Tangent 1 KHz

/

0.0012

0.001

/

Dielectric Strength at 20°C kV/mm

7.87

2

40

40

Chemical characteristics

Corrosion resistance at 20°C

B

/

/

/

Resistance to alkalis at 20°C

B

/

/

/