Aramid Fibre Fabrics 400°C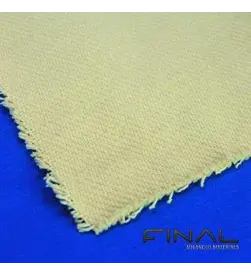 Aramid Fibre Fabric, up to 400 °C
The word 'aramid' is a contraction of 'aromatic polyamide'. The chemical name is para phenylene terephthalamide or PPD-T. Created in the 1960's, aramid fibres consist of yellow filaments of about ten microns in diameter, assembled into threads. 
Woven in plain weave, 100 % para-aramid fabrics (Kevlar®) have excellent thermal characteristics. In addition to their good insulating properties, they can reach a peak temperature of 500 °C and a continuous temperature of 350 °C. In addition to this, they have excellent resistance to cuts, abrasion, tearing and acids, as well as excellent mechanical properties. Available in different versions (aluminised, fleece, etc.), they are particularly suitable for the manufacture of protective clothing and thermal insulation.
100 % para-aramid (Kevlar®) fabrics always include a cross-twill woven version (two single twills in different directions). Particularly resistant to high temperatures up to 450 °C and cuts, it is mainly used to reinforce protective clothing. Coated versions (silicone, aluminium, flame retardant, etc.) are available.
70 % Panox® / 30 % Kevlar® twill is a good alternative to 100 % aramid fabrics. The fiber is an oxidized, thermally stable, polyacrylonitrile fiber. This fiber mixture allows the textile to withstand up to a temperature of 400 °C continuously (maximal temperature 600 °C). It is particularly suitable for use against sparks and projected materials. On the other hand, its mechanical properties are inferior to a 100 % para- aramid fabric. It is mainly used in the manufacture of seats for the rail and air industries. An aluminium version is also available. 
Applications of Aramid Fibre Fabric
Thermal insulation

Protection shield

Gloves

Protection equipment

Aprons
Technical Data of Aramid Fibre Fabric
Property

Unit

Item N°

207-1101

207-1102

207-0030

207-0040

Weave

 mm

twill

plain

cross-twill

twill

Area Density

mm

490

600

300

265

Width

m

1,000

1,000

1,600

1,600

Thickness

°C

1.75

1.9

0.6

0.5

Length

m

50

50

50

50

Max. Operating Temperature

°C

350

350

350

400

Max. Peak Temperature 

m

425

425

425

600
Physical variables included in this documentation are provided by way of indication only and do not, under any circumstances, constitute a contractual undertaking. Please contact our technical service if you require any additional information.