Biosoluble Fibre Felt 1,200°C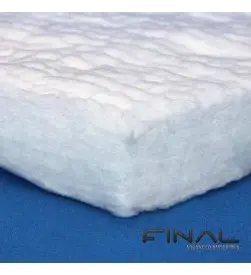 Biosoluble Fibre Felt, up to 1 200 °C
Biosoluble fibres felts' composition excludes all carcinogenic classification as per Q in directive 97/69 EC, unlike pure silica and silicate fibres. Biosoluble fibres felts are an ideal solution to replace ceramic fibres. Biosoluble fibres dissolve in bodily fluids such as those found in the pulmonary alveoli. They are less biopersistent, meaning they are eliminated more quickly by the body while maintaining their excellent thermal insulation and fire protection qualities.
Biosoluble fibre felts are obtained from long fibres of alkaline earth silicate. With high thermal stability, they retain a flexible fibrous structure up to a temperature of 1,200 °C. Their high-temperature insulation performance is remarkable.
This range of product contains no binders or lubricants and emits no smoke or odor when heated. Biosoluble fibre felts are flexible and easy to cut or install. Biosoluble fibre blankets are available laminated with an aluminum film to improve the thermal properties of the sheets.
Applications of Biosoluble Felt
Chimney, furnace and pipe insulation

Heating and furnace lining

Heat shield

Component in the manufacture of thermal protection
Technical Data of Biosoluble Felt
Property

Unit

Density 

kg/m3

64

80

96

128

Tensile Resistance 

kPa

75

75

75

75

Linear Shrinkage 

24 hrs at 1,200 ˚C

%

1

1

1

1

Max. Operating Temperature

°C

1,000

1,000

1,000

1,000

Peak Temperature

°C

1,200

1,200

1,200

1,200

Thermal Conductivity

at 200°C 

W.m-1.K-1

0.06

0.06

0.05

0.05

at 400 °C

0.11

0.09

0.09

0.08

at 600°C

0.18

0.15

0.14

0.12

at 800 °C

0.29

0.24

0.21

0.18

at 1 000°C

0.42

0.36

0.29

0.25
Biosoluble fibre felts are also available with 96 km/m3 density. Other coating such as aluminum coating are produced only on request.
Property

Unit

96 kg/m3 Density

Item N°

210-SWPL96/06

210-SWPL96/13

210-SWPL96/25

210-SWPL96/50

Thickness

mm

6

13

25

50

Width

mm

610

610

610

610

Length 

m

5.5 (x4)

14.5

7.3

3.6
Physical variables included in this documentation are provided by way of indication only and do not, under any circumstances, constitute a contractual undertaking. Please contact our technical service if you require any additional information.
Biosoluble Fibre Felt 96 kg/m³ Biosoluble fibre  is an insulation material made from alkaline earth silicate wool. Biosoluble fibres felt have an extremely uniform structure resistant to continous temperatures up to 1,260 °C. Available in thicknesses from 6 to 50 mm and a density of 96 kg/m 3 . On request it is possible to have a biosoluble fibre felt with an aluminium side or with a density of 128 kg/m 3 .
Full description