Biosoluble fibre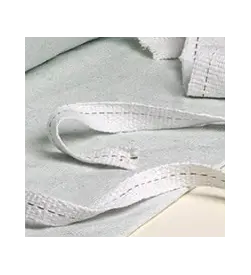 Biosoluble fibres are guaranteed asbestos and ceramic fibre-free. In order to eliminate the health risks associated with exposure to ceramic fibres or rock fibres for insulation, their chemical composition has been adapted. These fibres dissolve in bodily fluids such as those found in the pulmonary alveoli.
They are less biopersistent, meaning they are eliminated more quickly by the body while maintaining their excellent thermal insulation and fire protection qualities. Our biosoluble fibre products are reinforced with glass (650°C) or refractory steel (1050°C).
Biosoluble Fibre characteristics
Heath and safety
Low bio persistence
Excluded from all carcinogenic classifications
Stored as a non-hazardous product
Thermal properties
Can be used up to 1200°C
Very good resistance to high temperatures
Low thermal capacity
Low thermal conductivity
Resistance to thermal cycles
Mechanical properties
Good mechanical resistance
Very low linear shrinkage (<2% up to 1200°C)
Low flexibility
Chemical properties
Very good resistance to various chemicals (except phosphoric and hydrofluoric acids and concentrated bases and solvents).
No usage restrictions
No reaction with alumina
Biosoluble Fibre products
Biosoluble Fibre Strips
Biosoluble fibre strips are available in 2 mm, 3 mm and 5 mm thicknesses with widths of 10 mm to 20 mm. Adhesive strips and strips with bolt holes are also available.
Biosoluble Fibre Rolls
Produced with an E glass fibre sheath, the roll has excellent flexibility while maintaining good mechanical strength.
Biosoluble Fibre Ropes and Cords
Biosoluble fibre glass ropes and cords feature a fibre glass sheath. They can be reinforced with refractory steel or fibreglass. We offer diameters from 12 mm to 60 mm.
Biosoluble Fibre Braids
The biosoluble fibreglass braids are available in square or round sections. They are available in reinforced glass or refractory steel with diameters from 5 mm to 60 mm.
Bulk biosoluble Fibre
The product consists of a mass of randomly orientated, long, fluffy, resistant fibres.
Biosoluble Fibre Sheaths
Our sheaths are available in diameters of 15 mm to 60 mm.
Biosoluble Fibre flat Blankets
Biosoluble fibre blankets are obtained from long fibres of alkaline earth silicate. Their high-temperature insulation performance is remarkable. With high thermal stability, they retain a flexible fibrous structure up to a temperature of 1200°C.
Biosoluble Fibre Paper
Made from alkaline earth silicate wool, 300 paper has an extremely uniform structure, and is resistant to continuous temperatures up to 1260°C.
Biosoluble Fibre Fabric
Biosoluble fibre fabrics are available in 2 mm and 3 mm thicknesses. During production, they are heat-treated to limit flying fibres and dust.