Carbon and Graphite Soft Felts 2000°C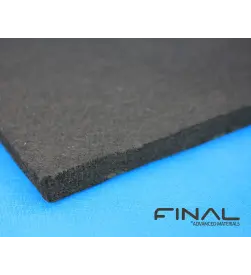 Carbon and Graphite Soft Felts, up to 2,000 °C
Graphite is a natural mineral derivative of carbon (C). It has a hexagonally shaped structure and is soft and flexible. It is usually of black or grayish color. Carbon and graphite products are appreciated for their chemical and physical properties: chemically inert, thermal resistance, low thermal and electrical conductivity, low thermal expansion coefficient, low friction coefficient, low coefficient of absorption of X-rays and electrons. Moreover, these products can be used in different fields: they can be found in pencils and alkaline batteries but also in the metallurgy, automobile and high technologies industries.
Carbon and graphite felts with thicknesses of 6 and 11 mm with a width of 1,200 and 1,270 mm are available. Specific widths can be provided and special shapes can be cut to your specifications. Many other felts' options are available
Benefits of Carbon and Graphite Soft Felts
Low thermal conductivity

Low specific heat: allowing for rapid heating and cooling of furnaces.

High thermal stability: in oxidizing atmospheres up to 350 °C, in protective or vacuum atmospheres up to approximately 3,000 °C for graphite and 1,000 °C for carbon.

Ease of processing: can be cut with scissors or blades. Adapted to small flexural radii.

Good surface properties: unaffected by all molten metals.

High purity: low sulphury and ash content

No electrostatic charging

High resistivity: coupling in an inductive field only occurs above 12 kHz.

Applications of Carbon and Graphite Soft Felts
Thermal insulation for vacuum furnaces and inert gas furnaces

Heated smelting and holding furnaces

Inductively heated furnaces

Filters for hot and/or corrosive gases and liquids, for molten metals

Backing strips for soldering and welding

Technical Data of Carbon and Graphite Soft Felts
Property

Unit

Carbon Felt

Graphite felt

Item N°

KFA 5

KFA 10

GFA 5

GFA 10

Area Density

g/m²

540

1,100

500

1,000

Thickness

mm

6

12

6

12

Width

mm

1,200

1,270

1,200

1,270

Length

m

30

30

15-30

15-30

Ash Content

%

1.7

1.7

0.04

0.04

Max. Operating Temperature

°C

1,000

1,000

2,000

2,000

Thermal Conductivity 

at 200 °C

W.m-1.K-1

0.05

0.05

0.03

0.03

at 600 °C

0.09

0.09

0.17

0.17

at 1,000 °C

1.6

1.6

0.6

0.6
GFA5 and GFA10 references are to cut according to your needs.

Physical variables included in this documentation are provided by way of indication only and do not, under any circumstances, constitute a contractual undertaking. Please contact our technical service if you require any additional information.