graphite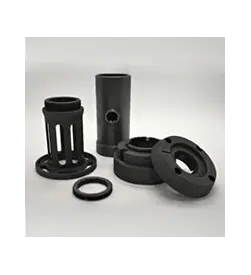 Graphite is a natural mineral derivative of carbon. It is a native element, often the result of sedimentary carbon compounds, but also occurring in certain rocks containing organic carbon, in magma or as the result of the reduction of sedimentary carbon through the reduction of carbonates.
Graphite has a non-compact layered structure made up of hexagonally-shaped structures. These layers are known as graphene have an inter-layer distance of approximately 0.336 nm.
In each layer, the carbon atoms are strongly bonded together by molecular links whereas the layers are not strongly bonded together, which explains the material's relative lack of hardness.
Physical properties
Graphite is the stable form of carbon at ordinary temperatures and pressures. This material has a black, shiny, submetallic appearance. Its hardness is low, between 1 and 2 on the Mohs scale. Due to its layered structures, all of its physical properties are anistropic. Indeed, its electrical conductivity varies greatly if measured between the layers or perpendicularly.
Applications
Graphite has many industrial applications in various natural or synthetic forms :
Mechanical Engineering: friction parts, seals, lubricants
Electrical manufacturing: brush motors
Reducers, particularly in the steel industry (blast coke furnaces)
Electrodes for the steel industry (electrical steel)
Moderators in nuclear reactors
Adsorbents in activated charcoal filter
Graphite machining
Final Advanced Materials has manufacturing processes and an ISO 9001 certified quality system allowing us to manufacture the most complex parts in complete compliance with your designs and requirements.
Flat or round grinding, turnery on lathes
Milling
Drilling
Ultrasonic processing
Plane and cylindrical polishing
Tapping, threading, grinding
Graphite-metal and graphite-ceramic compounds, brazing, metallizing
Our range of graphite products
Machinable graphite
Machinable graphite is known for its excellent isostatic qualities and its perfect homogeneity. It does not absorb moisture, deform, burst or shrink due to thermal stress.
Coatings and surface treatments
In order to modify the specific characteristics of graphite, different coatings and treatments can be applied. We propose 5 types of coating and graphite impregnations for fine grain isostatic graphite...
Graphite powder
Using scrap from our production of machinable graphite, we can provide sifted powder...
Soft carbon and graphite felts for thermal insulation
Carbon/graphite felts with thicknesses of 6 and 11 mm and a width of 1200 mm are available. Specific widths can be provided and special shapes can be cut to your specifications.
Thread for flexible graphite felt
It is also possible to sew or fasten flexible GFA felts together using thread spun using carbon.
Rigid graphite felt
Rigid graphite felt is available with a thickness of 40 mm. This product is a shape-retentive insulating material made of graphite fibres and a carbon binder.
Bonding sheet
Bonding sheets use high quality expanded graphite without any adhesive or bonding elements. They can be used at high temperatures up to 3000°C in an inert atmosphere or a vacuum.
Carbon-graphite
These materials have a fine or very fine particle size and can have a very high degree of anisotropy due the axial process. They are made of amorphous carbon and graphite.
Glassy carbon
Glassy carbon is high-temperature resistant in inert gas or vacuum environments up to 3000°C. Unlike all other ceramic and metallic high-temperature materials, glassy carbon increases in strength with a rise in temperature up to 2400°C.