Machinable aluminium nitride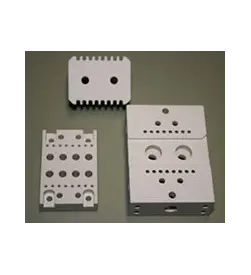 Final Advanced Materials provides machinable aluminium nitride : Rods, boards or machined parts according to your drawings
Aluminium nitride presentation

It is an electrical insulating refractory material having very high thermal conductivity ( higher than that of copper at 200°C) and showing high resistance to oxidation and abrasion. Unlike sintered ceramics, machining with conventional tools is possible.

This aluminum nitride has equivalent characteristics to Shapal M while being economically more interesting.

This ceramic is available in bars (maxi D.58x300mm), in plates (maxi 315x200x60mm) or in parts machined by ourselves according to plans.


Properties

Units

Alumina silicate raw

Alumina silicate

1100°C

Alumina silicate

1300°C

Macor®

Glass ceramic (Vitro 800)

Machinable alumina

Machinable boron nitride

Aluminium nitride (Shapal M™)

Machinable Aluminium nitride

Physical characteristics

Density

g/cm3

2.2

2.4

2.5

2.52

2.7

3.8

1.85

2.9

2.9

Porosity

%

1.5 - 2

0 - 0.5

0 - 0.5

0

 0.096

10

14

0

< 0,1

Water uptake

%

1.5 - 2

0 - 0.5

0 - 0.5

0

0.038

2 - 3.5

/

0

0

Mechanical characteristics

Hardness

Mohs: 2.5

Mohs: 5.5

Mohs: 7.5

Rockwell A: 48

Mohs: 4

Mohs: 5

Knopp: 4 kg/mm²

Vickers: 3900 Mpa

Vickers: 3750 Mpa

Compressive Strength

N/mm2

6

150

800

345

 488

422

20

1200

1170

Flexural Strength

N/mm2

12

50

80

94

 108

267

50

300

300

Modulus of Elasticity

GPa

/

/

/

66.9

 65

/

/

190

180

Thermal characteristics

Peak Temperature

°C

900

1100

1400

1000

 800

1650

850

1000

1000

Continuous Temperature

°C

700

1100

1300

800

 800

1650

850

1000

1000

Specific Heat at 20°C

J/kg°K

/

/

/

0.79

/

/

1.5

/

/

Thermal Conductivity at 100°C

W/m°K

1.07

1.7

2.2

1.46

 1.68

4.61

90

90

90

Coefficient of Expansion

20 - 40°C

10-6/°K

/

/

/

9.3

/

/

/

4.4

/

20 - 600°C

/

2.9 - 3.6

 6-8

11.4

8,6

/

/

4.8

4.5

20 - 800°C

/

/

/

12.6

/

/

/

5.1

/

20 - 1000°C

 7-12

/

 4-10

/

/

/

0.57

/

/

Electrical characteristics

Specific Resistivity at 20°C

Ohm.cm

1010

1012

1012

1016

 1.8x1014

1014

1014

1012

1012

Dielectric Constant at 20°C

at 1 KHz

/

/

6.1

6.03

 6~7

9 (@ 100kHz) 

4

7.1

7.1

Loss Tangent

at 1 KHz

/

/

9x10-5

0.005

 /

/

0.0012

0.001

/

Dielectric Strength at 20°C

kV/mm

 8-10

 6-7

 12-17

40

 > 15

7.87

2

40

40

Chemical characteristics

Corrosion resistance at 20°C

B

B

B

B

 B

B

/

/

/

Resistance to alkalis at 20°C

B

B

B

TB

 TB

B

/

/

/