Aluminium Nitride AlN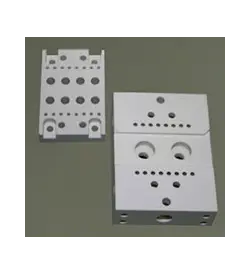 Final Advanced Materials provides aluminium nitride : sintered and machinable ceramic, powder, substrate.
Aluminium nitride presentation
Aluminium nitride (AlN) has a remarkably high thermal conductivity, with 180 W/m°K. Because this is combined with good electrical insulating properties, aluminium nitride is exceptionally suitable for applications in electrical engineering.
Because the material is suitable for further processing with both thick and thin film technology aluminium nitride is an ideal material for applications in telecommunications technology.
Aluminium nitride ceramic is therefore used as a substrate for semiconductors, as well as for high-power electronic parts, housings and heat sinks.
Main characteristics
Aluminium nitride ceramics are particularly suitable when the application requires :
Very high thermal conductivity
High electrical insulation
Thermal expansion similar to Si
Inert behaviour in the presence of III-V compound melts