Ceramic substrate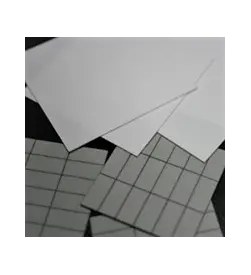 Overview: Ceramic Substrates
Final Advanced Materials supplies a wide variety of substrates: alumina, zirconia, and aluminium nitride. All our substrates are produced by laser cutting. It is possible to order plates in standard dimensions, or for parts to be cut to a customized design, whether for a prototype or for series production.
Final Advanced Materials has machining facilities which guarantee ISO 9001-certified quality. Our tooling and our expertise permit the production of the most complex components from your plans.
Facilities
Laser machines with appropriate cutting heads for different materials.

Automated laser machines with video-based dimensional control systems.

Programming facility for all commonly employed data formats (dxf, dgw, iges, cadl, stl, etc.)
Available materials
99 % porous alumina Al2O3
96 and 99.6 % high-density alumina Al2O3
Zirconia ZrO2

Aluminium nitride AlN
Applications of Ceramic Substrates
Sintering equipment

Oven construction elements

Medical technology

Electronic sensors

Catalyser

Filtration of liquids
Benefits of Ceramic Substrates
Hardness

High mechanical strength

Dimensional stability, even at high temperatures

High resistance to wear and corrosion

Electrically insulating

Resistance to chemical products

High-temperature withstand

Dielectric and ferro-electric properties

Very low adherence

Exceptional flatness

Low thermal conduction
Comparative Table
| | | | |
| --- | --- | --- | --- |
| Property | Ceramic | Metal | Polymer |
| Hardness | High | Low | Bad |
| Elastic Modulus | High | Good | Low |
| Resistance to High Temperature | High | Low | Bad |
| Thermal Expansion | Low | Good | Good |
| Malleability | Low | Good | Good |
| Corrosion Resistance | Good | Low | Low |
| Erosion Resistance | Good | Low | Low |
| Electrical Conductivity | Low | Good | Low |
| Density | Average | High | Low |
| Thermal Conductivity | Average | Good | Low |
Our range of Ceramic Substrates 
Alumina
Alumina substrates are highly rated for their good chemical and mechanical resistance. They can be employed for the construction of furnaces, in medical technologies, in electronic sensors, in catalysers, in SOFC fuel cells and for the filtration of liquids.
Two types of alumina substrates are available:

Sintered High-Density Alumina
This substrate is available in the form of two products, the alumina content of which varies between 96 and 99.6 %. Whichever the product, these materials are distinguished by their high resistance to corrosion and abrasion. Moreover, they show good mechanical strength, and can be employed as electrical insulators. They show very low adherence and, by nature, feature exceptional flatness. Finally, alumina substrates show good thermal conduction. High-density alumina substrates are available in various thicknesses (0.15 – 0.25 – 0.38 – 0.5 – 0.76 – 1 – 1.27 – 1.52 – 2 mm) and in dimensions ranging from 50.8 x 50.8 mm to 168 x 168 mm.
Sintered Porous Alumina
A porous alumina substrate has mechanical, electrical and chemical properties which are similar to those of high density alumina. However, this product is distinguished by its lightness. Its porosity makes it a material of choice for the filtration of gases and liquids, and for the homogeneous diffusion of a fluid. Porous alumina substrates are available in various thicknesses (1 – 1.5 - 2 mm) and in dimensions ranging from 100 x 100 mm to 168 x 168 mm. 
Aluminium Nitride
An aluminium nitride substrate is a semiconductor with a wide band gap (6.2 eV). This refractory and electrically insulating material has a very high thermal conductivity and shows good resistance to oxidation and abrasion.
Aluminium nitride substrates are available in various thicknesses (from 0.5 to 1.5 mm) and in dimensions of up to 138 x 190.5 mm.

Zirconium
ZYTC substrates are thin, rigid, tape cast structures composed of zirconia stabilized with yttria at targeted stabilization concentrations. ZYTC is our thinnest zirconia material and is ideally suited as a setter for sintering microelectronics, solid oxide fuel cells and thermal management applications under conditions of high temperatures and in varied atmospheres. ZYTC has been high fired and is tightly bonded resulting in a dust free, smooth gas tight surface. ZYTC is dimensionally stable to 1,500 °C. It has exceptional resistance to oxidizing and reducing atmospheres at high temperatures. Zirconia does, however, lose a small amount of oxygen at very high temperatures in vacuum and inert or reducing atmospheres. Although this reaction results in a colour change from white to grey, other properties remain essentially unchanged.

Technical Data of Ceramic Substrates 
A comparative table for the available ceramic substrates can be downloaded in the data sheet.



Physical variables included in this documentation are provided by way of indication only and do not, under any circumstances, constitute a contractual undertaking. Please contact our technical service if you require any additional information.


The alumina substrate is available in 96% and 99.6% dense sintered alumina and 99% porous sintered alumina. It has thermal, electrical and mechanical properties. Alumina substrates are available in various thicknesses and dimensions.
Full description

The AIN substrate is the ceramic with the best thermal conductivity and an excellent electrical insulation and low thermal expansion. Aluminium nitride substrates are available in various thicknesses and in dimensions. Other substrates are also available
Full description

Final Advanced Materials offers a range of zirconia ZrO2 substrates, but also alumina, quartz and aluminum nitride substrates. ZYTC substrates from Zircar Zirconia Inc. are thin, rigid, tape cast structures composed of zirconia stabilized with yttria.
Full description